Practice creates design technology and engineering building for Buckinghamshire school
Design Engine has lodged plans for a 980sq m design technology and engineering building for Stowe School in Buckinghamshire.
The education specialist said the two-storey structure would be a "creative hub" to introduce pupils to modern design and manufacturing skills, and that it would sit alongside the independent school's science and maths offer.
Headteacher Anthony Wallersteiner said the school – which counts Richard Branson, Michael Grade and architect Francis Terry among its past pupils – saluted the "unashamedly modernist" proposals.
"Design Engine are following in the footsteps of Adam, Kent, Borra, Soane and Gibbs," he said.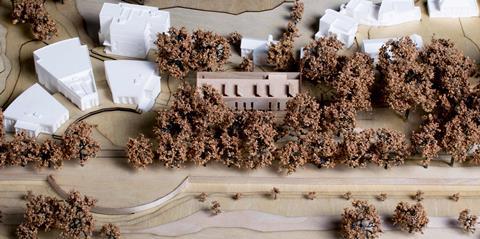 "I am confident that Design Engine will produce a superb building which will in turn take its place among the architectural wonders of Stowe."
Design Engine said Stowe had established itself as the country's leading school for robotics and that the new facility would embrace developing technology in mechatronics, computer-aided design, computer-aided manufacturing, computer-aided engineering and 3D printing.
The practice won the commission via an invited design competition in 2016. It said the "unique nature" of the school campus – which sits within the grounds of Stowe House, and occupies the house itself – demanded a "rigorous approach" to the setting of the new building.
Design Engine's proposals are sited in woodland to minimise their impact.
Stowe currently charges £12,697 a term for pupils who board.