Church 'enlarges the place of its tent' with modular design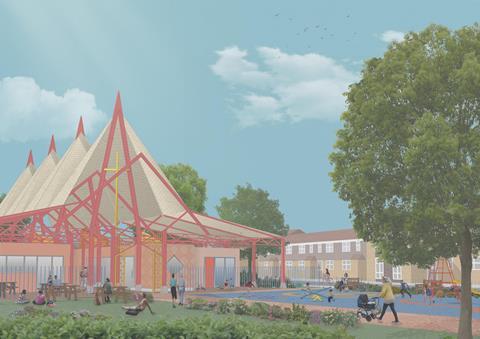 Cottrell & Vermeulen Architects have drawn up plans for a new church and community hub for the parish of St Stephen's in Southend-on-Sea, where the vicar is a former architect.
The practice, which was BD's Architect of the Year in 2016, created a scheme to replace the church's existing dilapidated facilities in the Prittlewell neighbourhood with a modular design that can easily be expanded as the community's needs evolve and extra funding becomes available.
Its design features low-cost rectangular structures that can accommodate many different uses, arranged beneath a tall, tent-like structure supported by a steel frame that gives the building a clear and striking identity, as well as providing shelter to the spaces beneath.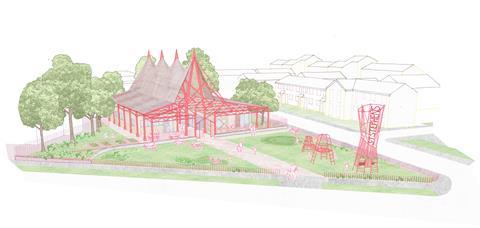 Cottrell & Vermeulen said St Stephen's had a growing congregation and that the new development would provide the local community with a much broader range of services – including a community café, soft play area, play area, multi-use space and kitchen.
Priest-in-charge Colin Baldwin, who is a former architect, said the state of the current hall at St Stephen's had forced the church to scale back – or even stop – some of its projects, a situation the new facilities would turn around.
"The buildings and outdoor play-space are both past their best and it is uneconomic to repair them," he said.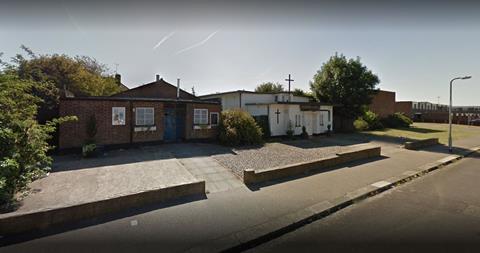 "Our vision is to build new community and church facilities, revitalise the playground and reinvigorate a strong sense of community."
Rev Baldwin is undertaking a 10-day, 1,000-mile cycle tour of the Midlands and southern England to raise £50,000 to put the Cottrell & Vermeulen scheme through planning.
He said the trip would take place in July and take in a host of cathedrals en-route.