Architect lodges proposals for gallery-led refurbishment as part of €60m bank project
David Chipperfield Architects has revealed its proposals to transform Santander Bank's Cantabrian headquarters into gallery and exhibition space for the firm as part of a wider €60m project.
The practice last year won a design competition for the project focused on Santander's Paseo de Pereda headquarters, which has a monumental archway that bridges a street. Plans for the scheme have now been lodged with Santander city council.
Architects Antonio Cruz and Antonio Ortiz have worked up proposals for a second Santander building on Calle Hernán Cortés that will deliver new technology and business space. Santander said the projects were expected to commence within the next year and take up to three years to complete, in the case of the Pereda building.
Chipperfield said Paseo de Pereda had been home to the bank since 1923. It added that although the building had a uniform appearance it evolved from two separate residential buildings, one of which had parts dating back to 1795. The arch section was only created in 1951.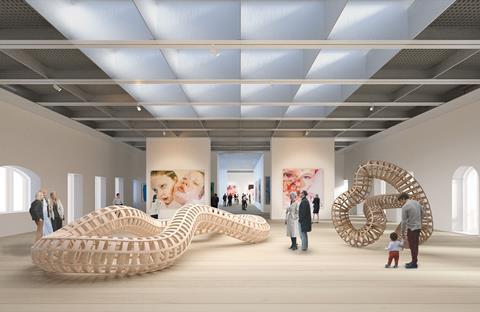 Chipperfield said that successive modifications had resulted in a "compromised internal layout" and that the project would retain the "personality and characteristics" of existing spaces, turning them into galleries and events spaces.
"The design envisages the arch as a connector, establishing it as a central spine by partially enclosing the upper section," Chipperfield said.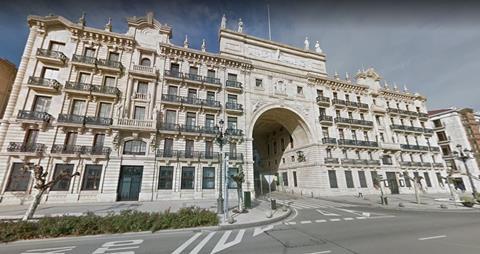 "Here the major circulation of the building will be visible, signalling the new permeability and celebrating the transformation of the bank into a major public venue for the city.
"In spite of this glazed infill, the arch will retain its urban qualities as a recognisable gateway between the city and the sea."
The practice said the majority of the Pereda building would be dedicated to new galleries for Santander's collection, which includes work by Rubens, El Greco, Picasso, Chillida and Miró, but that its top-floor galleries would host travelling exhibitions.
The building will also house a multimedia exhibition space explaining the history of the bank, a multipurpose events space, an auditorium, café and bookshop. On top of the building will be a new public pavilion and terrace for events and panoramic views over the bay and the city.
Banco Santander executive chairman Ana Botín said the Pereda building and the Calle Hernán Cortés building were the firm's two most iconic buildings in the city and that the project aimed to ensure the bank showed leadership in the sector.
"Our headquarters has to be an example of this: of our capacity to innovate, of our modern approach, our focus on people, as well as a way of representing our history and roots, both locally and globally," she said.
"I also want it to reflect our city: open-minded and modern, transparent and warm, which knows how to evolve from its tradition and adapt to changes."