Approval for mixed-use scheme sounds death-knell for Populous arena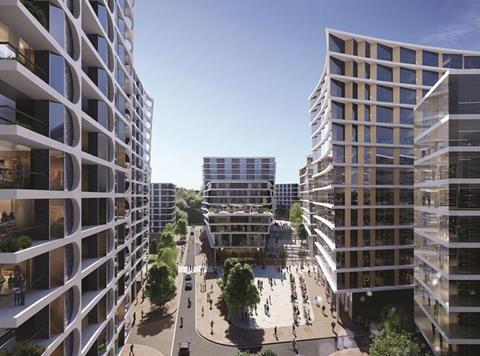 Proposals designed by Zaha Hadid Architects to build a new district in Bristol with more than 500 homes, a hotel and conference centre have been backed by the city council's cabinet.
Legal & General have been handed the lease for the Temple Island mixed-use site, which the council has agreed will now be completed in two phases.
The plans designed by ZHA will replace the previous proposal for a Populous-designed arena which was promoted by past mayor and RIBA president George Ferguson.
According to the cabinet report, the council gave approval on the condition that an office building not exceeding 100,000sq ft is constructed on the Temple Island site during the first phase of works.
The first phase of the plans will include up to 500 homes to rent and buy, of which 40% will be affordable, and two office buildings, with work to be carried out from 2021 until 2025.
The second phase will include another residential block, a conference centre and a 350-bed hotel which is expected to run from 2028 to 2029.
The plans will also provide connections to Temple Meads, a University of Bristol campus, neighbouring communities and the local transport network.
Alongside investment from Legal & General, £32m of public money will be invested in the Temple Island project.
The cabinet report also mentioned progress on road works at Temple Gate, despite delays, and masterplanning work for the Temple Quarter.
Meanwhile the University of Bristol is waiting for a decision on a planning application for its new Temple Quarter Enterprise Campus, which was submitted in November 2019, on the site of an old Royal Mail sorting office which has been demolished.