163 homes will be built as part of an eventual 2,800 units in Harlow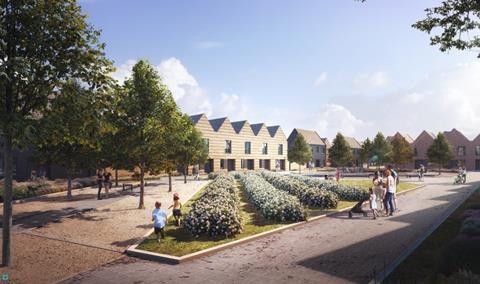 BPTW has won planning for more than 160 homes at the Newhall development in Harlow, Essex.
The 142 houses and 21 apartments will be built in the second phase of Newhall, which will eventually host 2,800 homes plus a range of community facilities.
BPTW said its inspiration for the new homes and streetscapes came from historic streets in the original settlement of Old Harlow.
Several schemes have been started at Newhall, which forms part of the Harlow New Town plan established by Frederick Gibberd, with architects including Stirling Prize winner Alison Brooks, Sheppard Robson and John Thompson & Partners.
In all 500 homes have been built so far in the first phase of the Newhall scheme.
The remaining homes on the site are being developed by Countryside in upcoming planning applications, which are being worked on by BPTW and HTA Design.
Catherine Brooking, development director at Countryside Properties, said work on the 163 homes would begin this summer.
"Working with BPTW and the design team, we are delivering a masterplan which not only creates homes in a variety of tenures to cater for the whole community but will also provide exciting new connections to the surrounding landscape," Brooking added.