Mace shut construction sites two weeks ago
Mace will begin reopening some of its 90 sites that have been closed for two weeks because of the coronavirus pandemic today.
The firm was forced to pull down the shutters on jobs on March 24 – a day after the prime minister effectively put the UK on a lockdown to deal with the outbreak.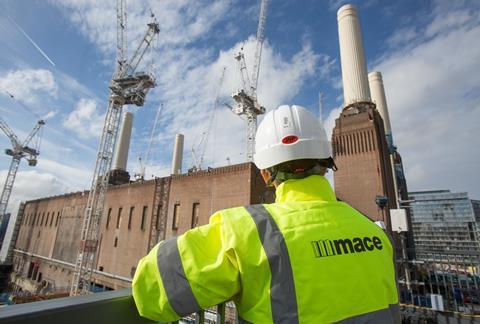 Building Design understands that around 20 sites will reopen but the workforce will be significantly reduced with just 400 people working across all reopened jobs.
A week before Mace shut down its sites, just under 9,000 were working on all 90 meaning the number turning up today will be less than 5% of that figure.
Mace chief executive Mark Reynolds said: "It is now clear that restrictions around social distancing is likely to be in place for many months – and so construction must find a way to work safely. If we do not, we will be unable to support the UK's economic recovery.
"The health, safety and wellbeing of everyone who works on our sites is our first priority. We have made it clear that we would not re-open our construction projects until we were satisfied that it was safe to do so. During this period, there have been ongoing critical works on a number of projects that have allowed us to test and develop our procedures for a wider opening.
"We are working closely with our clients and supply chain to make this re-opening a success. The Mace group board, our construction leadership teams and our project teams will be taking personal responsibility for ensuring that guidance is strictly followed. If it is not, we will close sites immediately."
Mace is hoping to begin opening its remaining sites over the coming weeks although some, including the redevelopment of Battersea Power Station, will not open until the end of the month at the earliest.
Architects whose work is currently on site at the £9bn redevelopment include Frank Gehry, Foster & Partners – both of whom have designed blocks of flats – and Purcell and Wilkinson Eyre, architects respectively of the restoration and conversion of the listed power station.
Last month, Reynolds said the cost of shutting down all its UK sites would hit the firm for £10m a week.