But revenues plunged 15% in year to May 2021
Architecture practices were able to preserve profitability despite a plunge in revenues during the covid-19 pandemic, the RIBA has revealed.
In its annual summary of business trends in the sector, it said overall income was down 15%. But firms managed to keep their heads above water and Adrian Malleson, head of economic research and analysis at the institute, said: "Change to business' strategy was needed in weeks or days, rather than months or years.
"Practices rapidly and successfully responded to new client requirements, new markets and a need for new ways of working. Through the worst economic and societal shock in memory, practices have preserved their profitability."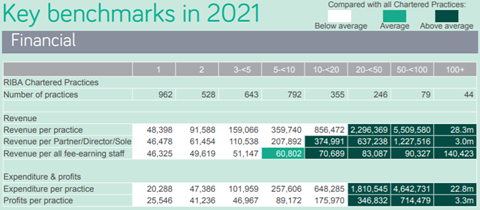 The RIBA's annual Business Benchmarking report tracks the turnover and salaries of RIBA chartered practices, indicating how architecture practices compare to others on a broad spectrum of criteria.

This year's report covers the period running from 1 May last year until the beginning of this May, when the wider economy was hit by three lockdowns because of the pandemic.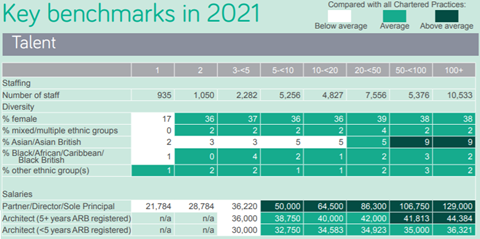 Activity fell in several sectors, with a 30% slump in revenue from work on offices, culture and entertainment along with sport and leisure.
There was also a downturn of 14% in revenue from overseas work, as other countries brought in their own lockdowns, with the survey finding that those most affected were larger practices with 100 staff or more.
The report found that practices had sought out work in areas such as one-off houses, domestic extensions and alterations, with revenue from these sectors increasing by 3%.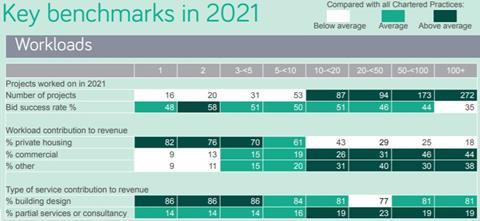 And while staff numbers fell by 11% during the period, most salaries remained unchanged.
Overall, the survey found that the architecture profession was contributing £3bn to the UK economy, 15% lower than the £3.6bn seen in the 2020 report.
READ THE FULL SUMMARY HERE