Practice beat Ayre Chamberlain Gaunt and Studio Partington in 2018 Shinfield competition
AOC has bagged planning permission for a new community centre in the Berkshire village of Shinfield after it won a RIBA competition for the project last year.
The practice pipped a shortlist that included Adams and Sutherland, Ayre Chamberlain Gaunt, Curl la Tourelle Head and Studio Partington in the fray, and its 960sq m winning design has just secured consent from Wokingham council.
Set to be located on School Green, at the historic centre of the village, the new building would create a contemporary cultural centre for the local community and deliver two connected halls, library facilities, a café, meeting rooms and a bespoke children's space, said AOC.
Practice director Tom Coward said the building's elevated community meeting area reinforced the importance of "civic assembly" and provided views out to the green, while its butterfly roof borrowed the roof pitches of neighbouring buildings and flipped them to create a "distinct" silhouette.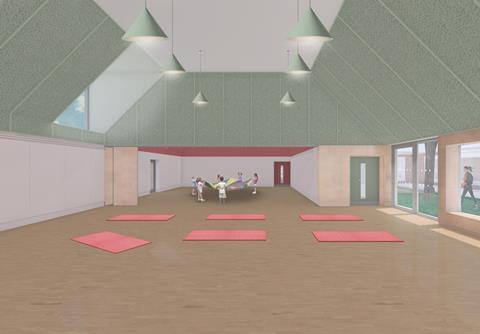 "We have greatly enjoyed developing our competition-winning design with local residents, Shinfield Parish Council and Wokingham Borough Council to make a building that is particular to their needs," he said.
"The careful integration of essential services – library, childcare and health – into the community centre creates a building that is useful, valuable and joyful."
Construction of the project is due to start on site next year for completion in 2021.