1960s block will be torn down and renamed One Waterloo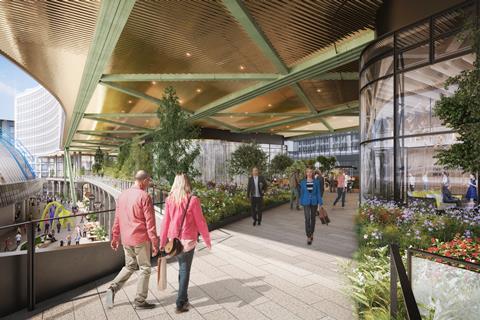 The developer behind a 31-storey commercial tower block that will replace Elizabeth House in Waterloo has been given final planning for the job.
HB Reavis won planning 18 months ago for the AHMM scheme which will see the 1960s block, next to the station and designed by the infamous John Poulson, torn down and replaced with three stepped buildings rising from 16 to 31 storeys.
It will also include a garden promenade connecting to the station, a new public squares, a pedestrianised shopping street, outside terraces and a so-called urban sky farm offering occupiers fresh produce.
Lambeth council's consent in October 2019 was subject to a section 106 agreement which has now been signed and will see the developer pump in cash to fund step-free access to the Northern line at Waterloo.
HB Reavis will also help with landscaping and accessibility improvements for Network Rail's revamp of Grimshaw's former Waterloo International terminal.
The developer's chief executive Steven Skinner has already said it will act as construction manager on the job, having previously carried out the CM role on its other London jobs which include an office block next to Farringdon station called Bloom.
AHMM is the third architect to work on the project in the past few years, after David Chipperfield and before that Allies & Morrison were both appointed and ultimately ditched.
The 29- and 10-storey Chipperfield scheme was given planning but when the site was bought by HB Reavis in 2017 the firm conducted a review and decided to replace the proposed flats with offices. Chipperfield moved his London office into the building for a while.
The Elizabeth House scheme has now been renamed One Waterloo.