Practice beat ZHA, Perkins & Will and John Simpson Architects
Ab Rogers Design has won the £250,000 Wolfson Economics Prize for its proposals for a series of modular biophillic hospitals.
The practice beat entries by both architects and hospital planning teams including Zaha Hadid Architects, John Simpson Architects working with Create Streets, Maap and Fleet Architects.
A proposal by the LDN Collective, founded by Max Farrell, working with Perkins & Will was highly commended.
The prize has been awarded four times since it was set up in 2011 by Next chief executive and Conservative peer Simon Wolfson. Building Design columnist David Rudlin of Urbed won in 2014 for his garden city proposal.
This year's competition posed the question: "How would you design and plan new hospitals to radically improve patient experiences, clinical outcomes, staff wellbeing and integration with wider health and social care?"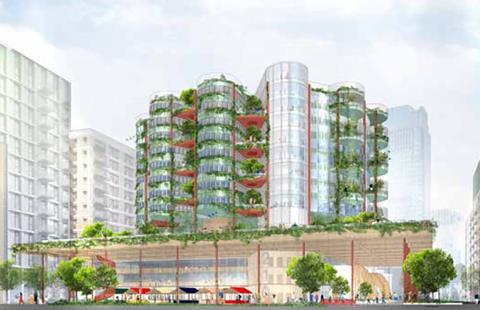 Ab Rogers' submission, called Living Systems, set out a vision for smaller hospitals which could be built across the country and sit within the community as centres of wellness as well as cure. They would be designed with a holistic experience in mind, incorporating planting, colour, smells and community to aid patient recovery.
The 200-bed facilities, dubbed a "third carer" alongside medical staff and families, would be constructed out of a prefabricated, modular design of 12 storeys, with an internal shell of cross-laminated timber so that wards could be easily partitioned into isolation rooms, for example in response to infectious disease outbreaks.
A central open ground-floor podium would incorporate a market and be accessible to the whole community.
The judges were also impressed by the idea of locating the bulk of patient rooms and wards on the south side of the building to maximise natural daylight, with greenery and views accessible from every bed.
The proposal was developed with landscape designer Dan Pearson.
Ab Rogers of Ab Rogers Design said the team was thrilled to win. "Our proposal is the result of the collective intelligence of an extraordinary team of hospital workers, patients and thinkers, all coming together to create a humanist hospital," he said. "We now look forward to developing this into a real life hospital."
Rogers, who is the son of Richard Rogers, designed a Maggie's Centre for the Royal Marsden in Sutton which opened last year.
Lord Kakkar, chair of the judges and a professor of surgery at UCL, said the judges were impressed by the calibre of all the finalists – who will each receive £10,000.
He added: "Living Systems stood out. Good hospital care is about teamwork. The submission by Ab Rogers is a visionary proposal to make the hospital itself part of that clinical team, with the building aiding healing and recovery. The result is a thoughtful, consultative design which recognises the needs of human beings in medical environments – whether they are patients, visitors or staff."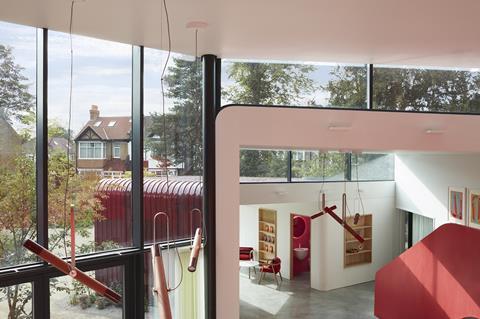 Ab Rogers Design's team
Max Fordham (Mechanical & Electrical Engineers), Gardiner & Theobald (Quantity Surveyors), Nulty (Lighting), Vie-en-Rose (Acoustics), Elliot Wood (Structures), Expedition (Structures), Publica (Urbanists), Dan Pearson (Landscape Design), David Powell (NHS Hospital Maker), Toby Anstruther (Habitat Maker) and Economists Mariana Mazzucato and Javier Botella.
Advisory group
Mando Watson
Helen Starr
Laura Benjamin
Ash Ranpura
Khan Hammad
James Kinross
Carol Black
John Gilsenan
Designers
Paul Nulty
Sergio Luzzi
Blue Farrier
Marina Willer
Dan Pearson
Engineers