Practice replaced BDP on £600m scheme last year
Perkins & Will has been officially appointed to design two hospitals in Leeds after the architect replaced BDP on the £600m job last year.
BDP was announced as the winner of the high-profile £9.5m design contract last August but Leeds Teaching Hospitals NHS Trust dropped the practice the following month.
Perkins & Will, the runner-up in the competition to design an adults' and a children's hospital in the city, was then announced as preferred bidder.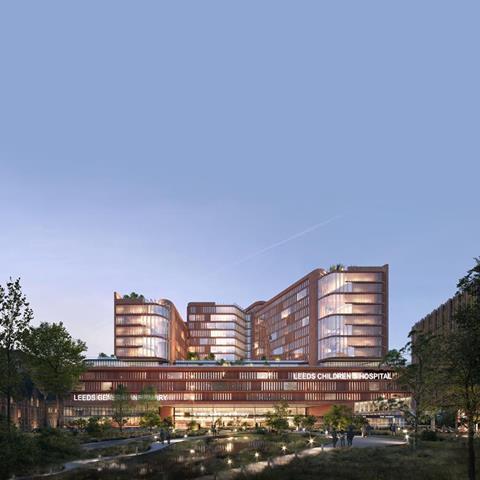 The trust did not give any further details of why BDP had been replaced but said that it was "not able to progress" with discussions on the scheme following a period of bidder engagement.
Perkins & Will's designs for the two Leeds hospitals are set to go ahead after the practice signed a contract with the trust
Now the Perkins & Will team, consisting of Penoyre & Prasad with Schmidt Hammer Lassen Architects, has inked the deal with the trust.
The job will see it designing the hospitals up to RIBA stage 2 before the trust novates the team to a contractor to carry the schemes through to construction and handover.
Perkins & Will managing principal Mark Rowe said: "We're delighted to have been appointed to design the trust's new hospitals at the Leeds General Infirmary site."
The design team is now undertaking staff and patient engagement sessions to gather input and support the next stage of design development, according to a statement from the practice.
The trust said Perkins & Wills' designs hark back to the original Leeds General Infirmary opened by Prince Albert in 1869, which prioritised light and air.
The proposals will include a rooftop plaza with gardens "boasting local plants and trees that will be inspired by the local landscape".
Leeds Teaching Hospitals NHS Trust was one of six to be awarded a share of £2.7bn of funding as part of the first wave of the government's health infrastructure plan.
The shortlist for the competition also included CF Moller, HOK and NBBJ.