Peers expected to back Commons vote with work set to start in 2025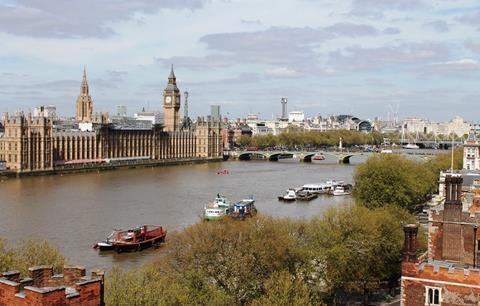 Work to carry out vital repairs to the Palace of Westminster are expected to start by the middle of the next decade after MPs last night agreed to leave the crumbling grade I listed structure while the refurbishment takes place.
MPs voted by 236 to 220 for a proposal that will pave the way for a full programme of works which will see the House of Commons relocate to Richmond House, a former department of health building in Whitehall.
Peers have yet to vote on the proposal but are expected to follow MPs' lead and will see the House of Lords shifted to the nearby QEII conference centre.
Work is not expected to start until 2025 at the earliest and will cost at least £3.5bn with Parliament operating from its temporary homes for around six years.
A study put together by a team featuring Deloitte Real Estate, Aecom and HOK warned back in 2015 that work needed to start soon or the building would face irreversible damage.
The Deloitte team proposed three options – a full decant of MPs and peers, a partial decant and a more expensive option which would have seen Parliament remain at the Palace of Westminster but seen costs come in closer to £6bn while work would have dragged on for at least 30 years.
Last night's vote agreed with a recommendation made in 2016 by a joint committee of MPs and peers for a full move out, which last year was backed by the public accounts committee which told Parliament "to get on with it".
MPs also voted to set up a sponsor board and Olympic-style delivery authority to commission and oversee the work while this group would be held to account by a shadow sponsor board and delivery authority which would "apply high standards of cost-effectiveness and demonstrate value for money in the business case, to report back to Parliament with up to date costings and a realistic timetable for the duration of the work".
MPs agreed that money spent during the lifetime of the current Parliament, which runs up until 2022, would be "limited to preparatory work for the comprehensive programme of works envisaged".
Among the problems the Palace is facing, MPs were told, are pipes and cables wrapped in asbestos, decaying wires that pose a fire risk, a high-pressure steam heating system next to high-voltage electricity cables and a 130 year old drain that was at the risk of bursting.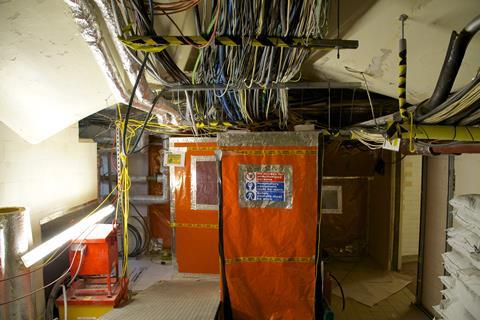 Labour MP Chris Bryant, a member of the joint committee which recommended a full move out back in 2016, told MPs that staying put while building work carried on around them was counter-productive.
He said: "The truth of the matter is that if we try to stay, we will dramatically increase the cost of the work and we will be going bananas."
And Tory MP Peter Aldous added: "We need to get on with this work as soon as possible. If a chartered surveyor had made a recommendation to delay the work, and there was then an incident such as a major flood or fire, they would be sued for professional negligence. There is a real risk of fiddling while Rome burns, so we need to implement the joint committee's recommendations as soon as possible."
The vote meant that a proposal to review the three options put forward by the Deloitte team in four years' time was thrown out.
Earlier, government heritage watchdog Historic England had warned that going back over the already recommended three options would mean years of delay which could see the Palace of Westminster put on its 'at risk' register.
US engineer CH2M and architect BDP won roles to oversee the repair works last summer.