Architects propose rival plans for temporary debating chamber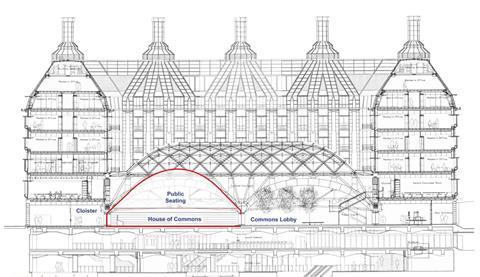 A row has broken out over official plans drawn up by AHMM for a temporary House of Commons debating chamber and offices.
As a result Michael Hopkins has come up with a rival proposal showing how his Portcullis House could be reconfigured for the purpose.
AHMM was appointed by Parliament to design proposals to reconstruct Richmond House on Whitehall as a new home for MPs while the Palace of Westminster undergoes its £4bn renewal. It is MPs' current preferred location. The Lords are set to move into the QEII conference centre.
No plans for Richmond House have yet been submitted to Westminster council but they have already sparked disquiet among conservationists and the original architects of the grade II*-listed building.
William Whitfield and Andrew Lockwood questioned the need to destroy all but the façade of their 1987 Department of Health building. Earlier plans were to build the chamber in the building's courtyard, a potentially reversible intervention.
"I can see there's a national interest but there must be other options," Lockwood told The Times yesterday.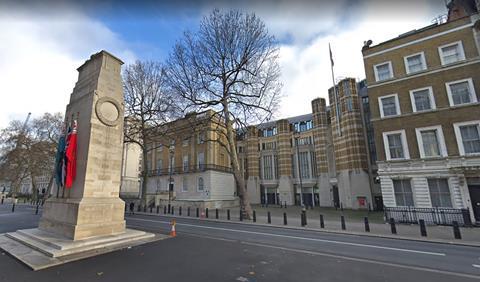 "It just seems a waste given the effort that went into it, and there must be a huge cost implication. The building is like an iceberg, with vast car parks underneath. And it's grade II*-listed, so surely consideration should be given to that?"
Michael Hopkins, co-founder of Hopkins Architects, has now revealed a counter proposal which would spare Richmond House and, he says, be much cheaper.
It involves converting half the atrium of Portcullis House, leaving the other half free for its existing café and meeting space uses.
Though not yet developed in detail, the proposal demonstrates there is space for the Ayes and Noes lobbies on either side of the chamber all set within the atrium. Richmond House, meanwhile, could be converted into MPs' offices.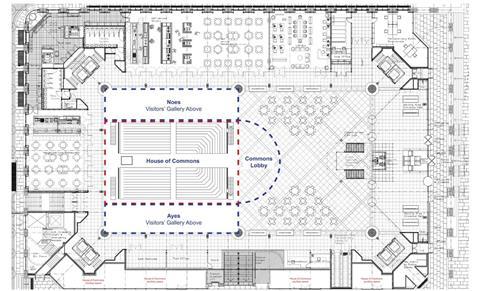 Marcus Binney, executive president of Save Britain's Heritage, said: "We urge MPs to look seriously at the Hopkins alternative in the interests of avoiding the destruction of Sir William Whitfield's superb building. Since the Second World War a major battle has had to be fought to save practically every landmark building in Whitehall including the Foreign Office and the Treasury."
The charity's director, Henrietta Billings, added: "The Hopkins drawings show that that trashing our modern architectural heritage to make way for a temporary chamber does not have to be inevitable.
"The potential environmental and cost savings from adapting Portcullis House, and re-opening Richmond House for office space rather than almost wholesale demolition and rebuilding are huge."
She warned that the security arrangements needed to protect a temporary chamber on the Richmond House site could result in an eyesore beside the Cenotaph.
Save has also written to the Restoration & Renewal shadow sponsor board chaired by Liz Peace which acts as the client for Parliament and oversees the work of the delivery authority.
AHMM and BDP were appointed to the £500m Northern Estates programme in November 2016, with the former taking the Richmond House job while BDP got the rest of the project to revamp a number of other buildings in Westminster.
AHMM was also the architect of the new Met Police building directly behind Richmond House.
A spokesman for Parliament said: "Parliament is developing plans for the temporary relocation approved by both houses earlier this year, to enable the restoration and renewal of the grade I-listed Palace of Westminster. The House of Commons will relocate to Parliament's Northern Estate, which includes Richmond House. In January 2018 the House of Commons Commission endorsed making best use of the Richmond House site, but design work is at an early stage and no firm decisions have been made. Any changes to Richmond House will be subject to planning and listed building consent processes.
"A redeveloped Richmond House will provide the space and facilities needed for the Commons to temporarily move out of the palace during its restoration and renewal, including an operational chamber. As the designs develop, members will decide how the building and facilities should be used or adapted after a return to the Palace of Westminster, including the chamber. The building's design will be in line with those decisions."