Lambeth infill scheme set for gap between 1990s terraces
Work is set to start on a super-thin Max Dewdney Architects-designed infill house in south London that will occupy the 3.5m gap between two 1990s terraced houses.
Named "Umbra House" the two-bedroomed, three-storey property will step down in height between the existing buildings – giving itself a split roofline in the process, and features a basement-level main living area in the 10m long structure.
Dewdney said the proposals, earmarked for Fitzalan Street in Kennington, had been developed "out of a dialogue" with local planning authority Lambeth council and the a private client, and had been named after the Latin for "shadow".
"This project reflects our approach to complex infill sites," Dewdney said.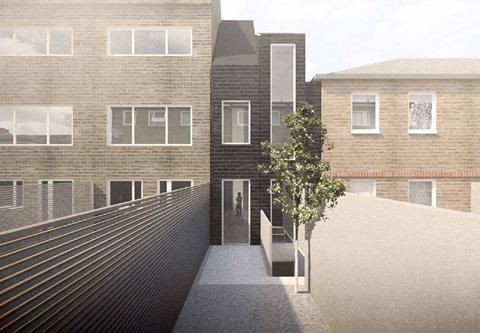 "Coming from a spatial design background, architecture, curation and playfulness underpins our approach and for Umbra House we wove together the client's brief with the site's history, planning issues and light conditions to form the design.
"We are very excited to now build this house and hope it will contribute to the debate about innovative housing and density and our cities."
The scheme won planning consent from Lambeth in 2016 and is due to start on site early next year.
The project will require the relocation of a side entrance to one of the existing properties.