Three-home mews scheme replaces council-owned parking spaces
Goldcrest Architects has completed a three-home infill development on the site of a former council car park in Camden, north London.
The practice – which is the architectural arm of regeneration specialist Goldcrest Land – created the proposals for the 280sq m plot after the local authority decided it was surplus to requirements in 2013.
Goldcrest said it had settled on a design that placed the new homes at 90 degrees to the mews itself, giving each property a wider frontage than would have been the case had they been street-facing. The homes are indented on the west side to give recessed entrance space and also on the east to provide courtyard gardens.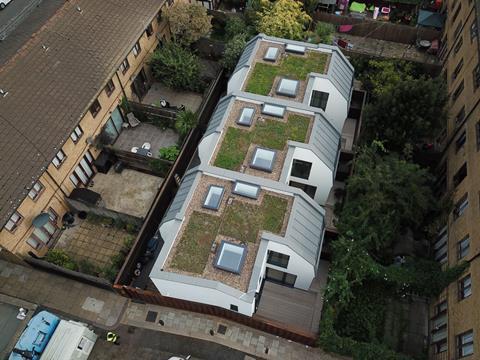 On the first floor, the indentations mean that both bedrooms of each property get a south-facing window that is not overlooked.
Goldcrest said each home's central staircase worked not only as circulation but also as gallery space, a library and home office. A large opening sky light above the stair allows daylight into the depth of the plan and gives natural ventilation.
The roof form is modelled and sculpted to cant away from boundaries and is planted with a green roof to ensure a pleasant vista for neighbouring properties while internally creating a "cosy" vaulted roof form to the bedrooms.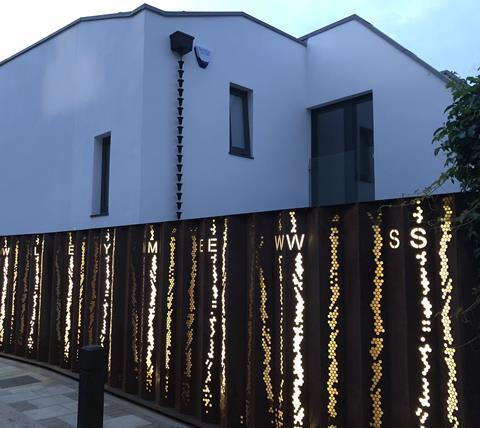 Goldcrest design director Jacqui Macqueen said infill development such as Hawley Mews had a vital contribution to make towards meeting London's housing needs.
"We need to start utilising these redundant bits of land, previously thought too challenging or compromised to be worth developing," she said.
"Hawley Mews is a good example of this, a confined underutilised tiny car park that has been transformed to provide high-quality family homes."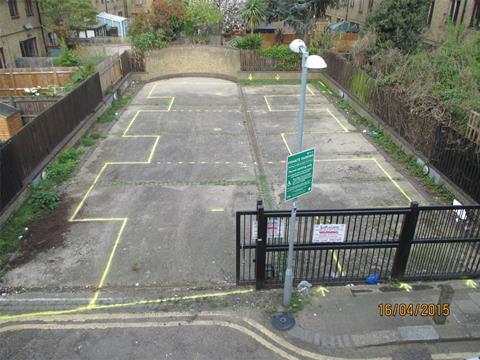 Principal delivery designer for the project was Healy Cornelius Design Consultancy; structural engineer was Jenkins & Potter; and the main contractor was Thames & Newcastle.
Goldcrest said the total cost of the project was £1.3m.