Practice lops 6m off 1 Leadenhall building but boosts office space
Ken Shuttleworth's Make Architects has submitted revised plans for its 1 Leadenhall tower in the City of London.
It won planning permission for a 36-storey scheme designed for developer Brookfield last year, and subsequently secured non-material amendments to the scheme earlier this year.
But a new planning application lodged last week with the City shrinks the building's height by around six metres and reduces the amount of proposed retail floorspace at the same time as increasing the space allocated to office and ancillary uses. It also raises the consented public viewing gallery to the fourth floor, which Make said would offer better views of nearby grade II*-listed Leadenhall Market and Richard Rogers' grade I-listed Lloyds Building.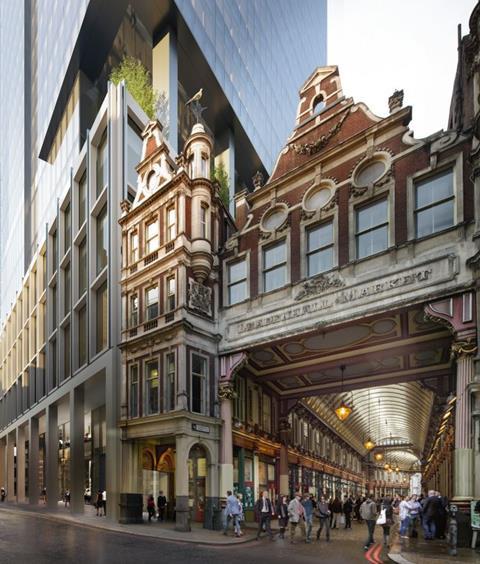 Documents supporting the application said the massing changes to the building meant it was now formed from "a series of overlapping vertical volumes" in a way that assisted the "overall viability of the scheme", with the improved internal space-planning arrangements for the office element.
They said the amount of space devoted to central cores was now reduced while the latest incarnation of the scheme also resolved "technical details in the façade" at the same time as retaining "clear articulation between the three vertical forms".
The latest plans deliver 50,368sq m of office space, measured by gross internal area, up from 48,511 in the earlier scheme, while the quantity of retail space drops from 4,187sq m to 775.
The supporting documents said quantity and location of retail space had "evolved following viability appraisals and to accommodate future office tenant requirements". However it said the quantity of retail space at ground-floor and basement level - as opposed to overall - had increased under the latest scheme.
Make's original 1 Leadnenhall proposals (illustrated in the gallery above) attracted opposition from a range of heritage groups before they were approved last year.
Historic Royal Palaces objected to the proposals because of their impact on views of the Tower of London, when seen from the east. It said it was "extremely alarmed by the steady build-up in both density and height" of the City's eastern tall buildings cluster, which it said was becoming "visually dominant in iconic views of the Tower", a World Heritage Site.
The Victorian Society objected to the application because of the building's impact on the neighbouring market building, the grade I-listed St Peter's Cornhill, as well as on two conservation areas
The current occupant of the 0.3ha 1 Leadenhall site is a seven-storey 1980s office building designed by GMW.
The City of London expects to determine the new proposals by the end of November.