Dismantling of dangerous sections begins today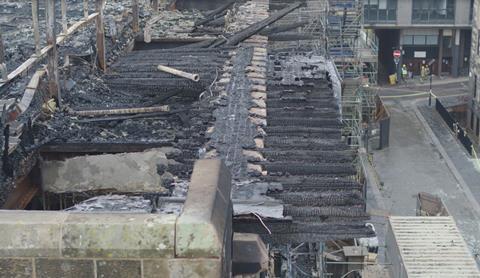 The bill for rebuilding the Mac will be covered by insurance, the director of the Glasgow School of Art has confirmed.
The cost of the highly specialised job has been estimated to be more than £100m, putting into the shade the £35m pricetag for the restoration after the first fire.
In his first formal interview since last month's blaze, Tom Inns confirmed what his colleague, Muriel Gray, and Scottish politicians have been saying for weeks – that the grade A-listed building will be reconstructed.
"It is critically important that the building comes back as the Mackintosh building," he told the Guardian.
He also acknowledged people's anger and frustration that the building could have burnt down a second time. He said he was confident their questions would be answered by the Scottish fire service's investigation.
A spokesperson said: "The Mackintosh Building was fully insured and the GSA Development Trust, which supports the full range of GSA activities, will play a key role going forward."
A petition started by the Scottish architect and writer Douglas Murphy calling for the Mac to be rebuilt has been signed by more than 5,500 people.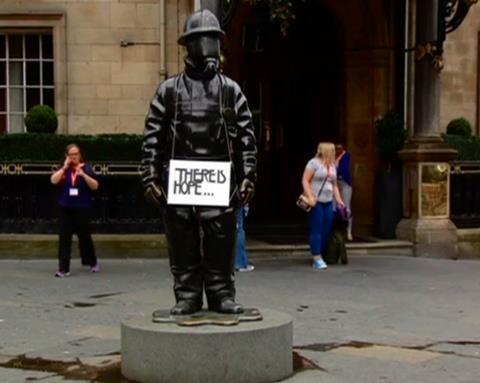 Inns' remarks come as work began to dismantle dangerous sections of the building, much of them brick by brick, with heavier, high-level stonework removed and transferred via hoists which will then be lowered down to street level for sorting and storage off site.
Where possible and safer to do so, plainer areas of facades will be lowered into the site for later removal, said a spokesperson for the school.
Five cranes are expected to be in use at the height of the work.
The methodology has been established by Glasgow structural engineers David Narro Associates and the GSA's contractor Reigart, along with the council and Historic Environment Scotland.
Dominic Echlin of David Narro said: "The contractor is starting today to reduce the height of the high level walls on the south side of the building, carefully taking down damaged and unstable masonry.
"With the machinery brought to site the contractor can work on several 'fronts', so after a start today in the middle of the south façade, we will quickly move on to reducing height to the top parts of the south-east corner and east façade.
"Work will then follow on the west end and then parts of north façade. This sequence has been determined so we keep the building as stable as possible and the dismantling controlled throughout the process."
The work is expected to take several weeks. During the initial phase the condition of the building will continue to be assessed and monitored.