Sections of building to be taken down after risk of collapse worsens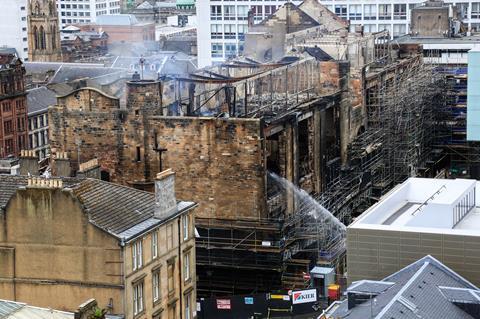 Glasgow council has announced it will begin dismantling sections of the Mac as the risk of imminent collapse grows.
Specialists are predicting a sudden collapse of parts of the building is now "likely, rather than possible" after surveys revealed more substantial movement in the walls than previously thought.
Dismantling work is set to begin "as soon as possible" in the next few days once a method has been agreed, to "at least first floor level, but safely," the council said.
It is unclear how long the work will take but residents displaced from neighbouring properties have been warned it will not be a quick process.
Glasgow council leader Susan Aitken previously said the walls had shifted by six inches.
A statement issued by the council today said: "There is now a requirement to at least partially dismantle sections of the building as a matter of urgency.
"However, the dangerous nature of the site which includes the Mackintosh building and the O2 ABC is such that it will take around two days to devise a methodology for taking down the south façade, which is the most seriously affected part of the building.
"The west gable of the Mackintosh building has continued to deteriorate and the east gable has continued to move outwards."
The demolition contractor has been asked to consider beginning at the eastern side of the site.
The Glasgow School of Art (GSA)'s new specialist site contractor, Reigart, brought large mobile cranes on site to allow detailed close-up visual assessment of damage to the building.
A GSA statement said: "The detailed visual assessment shows that damage to the Mackintosh Building is significantly greater than had initially been anticipated from ground visual assessment and the data from the drone and scanning footage which were undertaken last week…
"The areas of significant concern are the east elevation, the west elevation and sections of the south elevation. The plan of works will involve Reigart undertaking extensive down takings and potential structural bracing.
"Due to the condition of the Mackintosh Building this work will be undertaken in a highly controlled way to minimise any potential risk of failure and be sufficient to achieve structural stability of the Mackintosh Building."
Reigart and the GSA's structural engineers David Narro Associates are using the information to develop a plan of works to achieve structural stability of the building which will be agreed with Historic Environment Scotland (HES) and the council's building control department.
Glasgow council's head of building control Raymond Barlow said: "This building has undergone substantial stress in recent days. With each passing day a sudden collapse becomes more likely. It has become urgent that we take down the south façade. As the process begins it will be likely that the other walls will also need to be reduced.
"We do not know what effect this will have on the rest of the building so I have to be clear this site remains dangerous and is becoming more dangerous. It is particularly important that people observe the cordon which remains in place."