Tributes pour in for architect and entrepreneur
David Marks, co-founder of Marks Barfield and co-designer of the London Eye, has died after a long illness aged 64, his family announced today.
He died at home on Friday with his wife Julia Barfield, whom he met when they were students at the AA in the early 1970s, and their children, Benjamin, Maya and Sarah.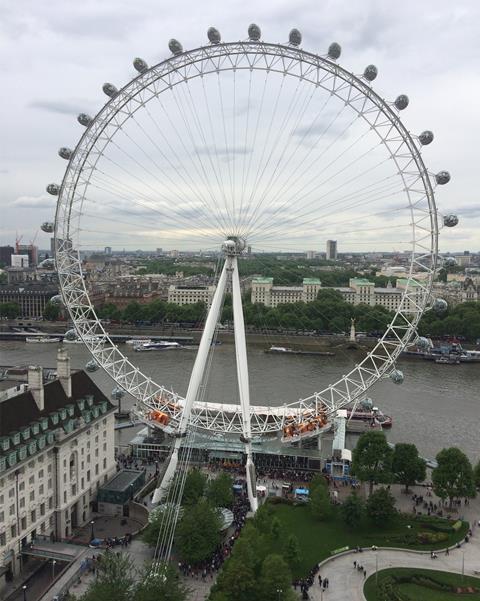 Marks is best known for the London Eye, as well as Brighton's i360 and Kew Gardens' Treetop Walkway, all projects which reflect his love of engineering.
As well as architects he and Barfield acted as entrepreneurs to get the Eye and then the i360 – the world's tallest moving observation tower – off the ground.
They conceived the idea of the "millennium wheel", found the site, mortgaged their home and steered it through to reality. Marks was awarded the MBE the year it opened and 17 years later it has attracted more than 60 million visitors.
Leadership of the practice the pair established in 1989 will continue under Barfield and the team of directors: Ian Rudolph, Gemma Collins, Ian Crockford and Magali Thompson. They have spent the past few months working to ensure a smooth succession.
Among those paying tribute were Tim Winter, chair of the Cambridge Mosque Trust, client of one of Marks Barfield's current projects.
He said they were deeply saddened, adding: "We came to him with an ambitious project that would satisfy a religious community living in a minority setting within a historic English city, and he gave us a solution that was both daring and delightful.
"As the Cambridge mosque takes shape before our eyes David's inspired vision will become more and more clear: innovative, soaring, technically adept, and wholly dignified."
Statement from David Marks' family and colleagues
David Marks, MBE FRSA RIBA. 1952 – 2017
With the deepest sorrow, the family of David Marks and his colleagues at Marks Barfield Architects regret to announce that David died on 6th October 2017, following a long illness.
David spent his last days at home with his family, his partner in life and work, Julia Barfield: and their children Benjamin, Maya and Sarah.
David was an architect whose work was founded in innovation, excellence of design and close collaboration with other disciplines, in particular with engineers. He believed that well designed buildings and structures can improve the quality of people's lives. He leaves a legacy of much loved landmarks, including the London Eye, the Treetop Walkway at Kew and the British Airways i360 in Brighton, which demonstrate his belief in the human spirit and his wish to elevate minds as well to the spirit. He transformed skylines, and his vision will continue to offer inspiration and delight to future generations.
David was born on 15 December 1952in Stockholm, Sweden and grew up in Geneva in Switzerland. He moved to London in 1972 to attend the Architectural Association School where he met Julia Barfield, a fellow student and close neighbour, soon after. The pair married in 1981.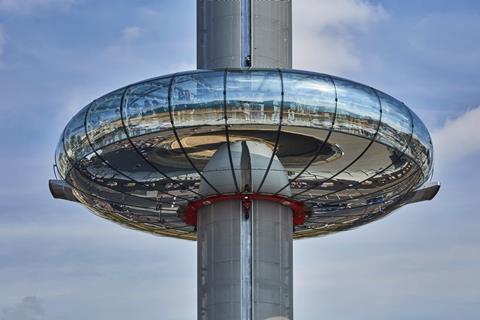 David studied under Keith Critchlow at the AA School and began his career working in the office of Lord Richard Rogers, but the defining creative relationship of his life was with Julia Barfield, with whom he collaborated throughout his studies and professional career.
The couple spent their year out while at the AA in South America, including 7 months together in Lima, Peru, helping to design a community centre and housing systems for an emerging Barriada settlement. On their return to the UK they alternated between collaboration and individual careers until forming their own practice, Marks Barfield Architects, in 1989.
David and Julia are best known as the architects and entrepreneurs that conceived, designed, and developed the London Eye on London's Southbank. Initiated as an unsuccessful entry to a Sunday Times ideas competition, it was David and Julia's tenacity that ensured that the project was realised. The pair found the site, obtained planning consent, mortgaged their home to meet the initial costs, and steered the project through to reality. The London Eye opened in 2000. Today, 17 years later, it has attracted over 60 million visitors.
In 2016 David and Julia repeated the success of their London Eye venture with the completion of British Airways i360 in Brighton, the world's tallest moving observation tower. The project received a RIBA National Award in 2017, one of a host of professional honours conferred on the design.
Throughout his life, David was enchanted by feats of engineering. Inspired by great Victorian engineers, builders and entrepreneurs such as Brunel, Richard Turner and Decimus Burton's Palm House at Kew and Eugenius Birch, who designed, financed and built Brighton West Pier on what would become the site of BAi360, David sought to expand the role of the architect through greater collaboration with the disciplines of finance and engineering.
David's belief in the power of architecture to have a transformative effect on civic life and his determination to finish what he started made him fearless in taking responsibility for projects. With Julia's support he took a share of the financial risk of projects, and dedicated time and effort to driving them forward. David formed close partnerships with expert collaborators, investors and civic leaders throughout his career in order to broaden his agency as an architect and leader.
He and Julia have been committed to maximising the social benefit derived from their work. In addition to the section 106 obligations required by Lambeth Council, David and Julia initiated the decision to grant 1% of London Eye ticket sales to the local community in perpetuity, to pay for improvements to the local area. Jubilee Gardens, a public park on the South Bank in London, is just one of the projects that benefits from these funds.
BAi360 in Brighton makes the same commitment. BA i360 was part-funded through a loan facilitated by the City Council, so that in the first year of operation, £1.8 million of the company's revenues were used by the Council to finance local regeneration schemes at including the landscaping of spaces either side of the attraction.
David was awarded an MBE in the Queen's New Year honours list in 2000 and was given a Special Commendation for Outstanding Achievement in Design for Business and Society by the Prince Philip Designers Prize in the same year. He was chairman of the Waterloo Project Board between 2002 and 2007: a £19 million regeneration programme that helped to bring about tangible improvements to everyday life for local residents, employees, and community organisations in London SE1. He was presented with a Civic Award by the Mayor of Lambeth in 2011.
Marks Barfield Architects will continue under the leadership of Julia Barfield and the team of Directors: Ian Rudolph, Gemma Collins, Ian Crockford and Magali Thompson. In the past months, the Directors have worked with David and Julia to ensure a smooth succession for the future of the practice.
The wider work of Marks Barfield Architects includes a great diversity of projects such as the Kew Gardens Treetop walkway; infrastructure projects and bridges; schools, including the recently completed University of Cambridge Primary School; art galleries and museums; commercial buildings and housing. Amongst other projects, Marks Barfield Architects is currently working with Tim Winter to construct a new Mosque in Cambridge, which is currently on-site and due to complete in late 2018.
David was Chairman of Brighton i360 ltd, which owns and operates the British Airways i360. His role as Chair will pass to Julia Barfield and the attraction will continue to operate under the remaining board of directors and the executive directorship of Steve Bax and his management team.
David's funeral will take place at a private ceremony, with details of a memorial to be announced in due course.
Speaking to the Sunday Times in July 2016, David Marks made the following comment:
"Architects don't stop, they just go on building things until they run out of breath. Julia and I never get sick of each other. We've been married for 35 years and I can't put into words how much I love her — it's a mystery. And you know, it's OK for it to remain a mystery. Some things are just like that."