Euston building will be converted into flats, offices and shops - and filled with greenery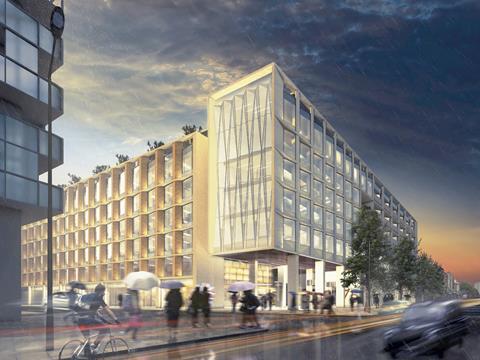 Marks Barfield Architects has won planning for the 23,000sq m redevelopment of Stephenson House in Euston, central London.
It will rejuvenate the existing building and fill it with gardens and planting and a "forest floor" in the atrium.
It is the first planning win announced by the practice since the death of its co-founder, David Marks.
The Stephenson House scheme will contain office space alongside 17 homes – six of them at affordable rents – cafes, restaurants and shops. The existing NHS clinic already established on the site will also be offered premises within the new building.
It has been designed to promote wellbeing, embracing circadian design principles with plenty of natural daylight and a staircase designed to tempt people not to use the lift, said Ian Rudolph, director at Marks Barfield.
"In its current guise, Stephenson House is an outdated building that contributes poorly to Hampstead Road and Drummond Street," he said.
"Our proposal upgrades it to a high-quality mixed-use development that has been designed to prioritise wellbeing, by 'greening' with gardens both internally and externally, at the same time as improving the quality of the streetscape.
"The development will be flooded with natural light and filled with gardens to provide a working environment that is unrivalled – something entirely appropriate for Euston's status as a major destination within London, spurred by the growth and investment that HS2 has begun to bring."
The glazed façades will feature a mix of natural stone on the Hampstead Road elevation and warm coloured brick on Drummond Street. Bronzed metal will be applied to details throughout.
A feature will be made of a full-height glazed "lantern" façade on the corner, with a 3D pleated pattern of glass panels that will highlight the building and visually connect to Tottenham Court Road.
Retail units and cafes will occupy the ground floor of the building, creating meeting places for the public and building occupants.
The upcycled building, for Lazari, will deliver an increase of 5,000sq m GEA on the site, split between the various uses.