RSHP founder says Marks and Julia Barfield 'changed London'
Richard Rogers has paid tribute to Marks Barfield co-founder David Marks, describing his contribution to architecture as "enormous".
Marks, who died on Friday after a long illness aged 64, worked for Rogers before setting up his own practice with his wife Julia Barfield in 1989.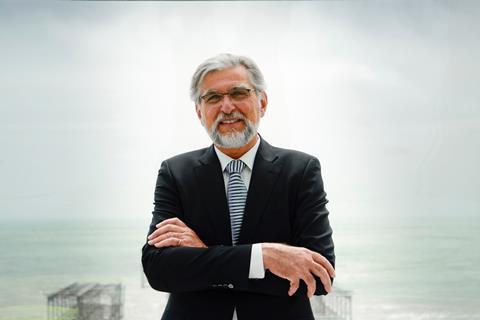 The RSHP founder said the couple had changed the capital with the London Eye, a project which they conceived, designed, promoted and helped finance, working as entrepreneurs as well as architects.
Rogers said in a statement: "I knew David for many years. He was an integral part of the team, helping us deliver the Lloyds Building.
"Strong in views and ethics, passionate about architecture, to which his contribution has been enormous. David and Julia both changed London.
"Only last week I went with the office to Brighton to celebrate their beautiful observation tower.
"I'll miss David - the handsome man with the wonderful smile."
Others who paid tribute were Chris Romer-Lee, co-founder of Studio Octopi, who recalled Marks' help in the early days of the Thames Baths project in 2014.
"We were baffled by what the next steps should be to realise a lido in the River Thames," he said. "Inspired by the story of the London Eye, I got David Marks' details off the RIBA practice directory and emailed him asking if he had time to meet. Within a few hours I had a response saying he would be 'delighted to meet'.A few weeks later and David was sharing lucid stories on how they realised the London Eye.
"He was both candid and generous, connecting me with consultants who'd helped them, while warning of the many pitfalls that come with being both client and architect for projects on the River Thames. The hour with David gave us the impetus to deal with the next steps of the project and most critically to never give up despite everyone telling you it can't be done."
Caroline Cole, founder and director of Colander Associates, described his death as a huge loss for the profession.
She said: "I have come to value David and Julia as my closest friends, having made that rare transition from being work colleagues to home friends.
"David was a man of few words but his generosity of spirit and entrepreneurial tenacity was infectious and it is this combination that made him remarkable.
"He was constantly inquisitive, wanting to explore new territory and come up with innovative ways of achieving social, economic and aesthetic excellence.
"The gentle landmarks that he and Julia created together are beautifully crafted and engineered to create truly memorable places that use materials and technologies to mutual benefit. Many of them also push the boundaries of financial modelling to ensure advantage to their local communities. Few architects today have David's innate desire to improve the world in such a holistic sense."
Hanif Kara of engineers AKT II said: "David was a gentle giant and, though we will mostly remember him for putting the UK on the global map with the London Eye and i360 tower, he gifted us with his patience and determination to change the value of our industry.
"We spoke often about his drive to transform practice and education of engineers and I was always inspired and learnt a lot with each conversation. I will miss him very dearly and my deepest sympathy and thoughts are with his family and all those close to him."
Rachel Clark, chief executive of Brighton's West Pier Trust, said: "David Marks made the most enormous and transforming contribution to both Brighton and the site of the West Pier.
"His talent, vision and tenacity were incalculable, as was his deep respect for the original work of fellow architect Eugenius Birch, which made him the ideal partner for the West Pier Trust.
"David was wonderful to work with and an inspiration to everyone around him. His vision lives on at British Airways i360 and we at the West Pier Trust will honour his memory."