Controversial project dubbed 'grotesque' by Ken Loach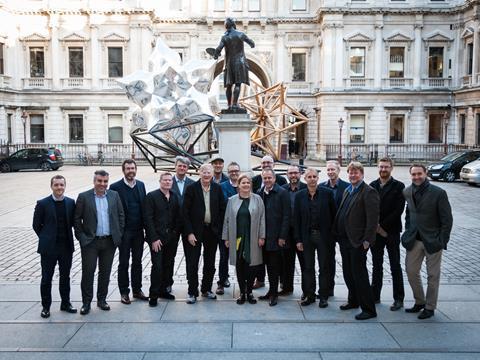 Grimshaw has been appointed to design Bath Rugby Club's controversial new stadium after a "rigorous" selection process.
The project would see an 18,000-seater stadium built by the river close to the centre of the city which is a World Heritage Site.
It would replace the club's existing facilities at Bath's Recreation Ground – where it is a tenant – and the club says the project would help rejuvenate the riverside area.
But opponents say the location is wrong and one of them, film director and local resident Ken Loach, described the proposals as "grotesque".
He was referring to the idea of building a huge stadium so close to the cathedral and on land which should be available to all. Grimshaw has not yet released any images of the scheme. The club aims to submit a planning application to Bath and North East Somerset Council by the end of the year.
"A plan to put a grotesque building in front of the abbey," he said in a recent speech. "I don't know if anyone's ever seen an 18,000-seater stadium. If you can imagine that on that green space and think what it will do right in the heart of the old city. Does the city need that? Does our stewardship of Georgian Bath justify that? I don't think so."
The club spent the last year consulting, with the proposals dividing the city.
The club's chief executive, Tarquin McDonald, said the Stadium for Bath project would create "something exceptional" in the heart of the city.
"Stadium for Bath is about delivering a new home for Bath Rugby, but it is clear that this project goes beyond that," he said.
"It is about rugby as a catalyst for riverside regeneration in the centre of Bath and the provision of significant community benefits that create a legacy for everyone, whether or not they are rugby supporters."
He said they were convinced they now had the best team in place to design a venue that would become a "jewel in the city's crown" and would accelerate the design process.
Grimshaw has appointed Kay Elliot to design the interiors and Gross Max to design the landscaping.
Kirsten Lees, a partner at Grimshaw, said: "The site's sensitive and complex location demands a very special and unique design response in order to deliver the project's aspirational objectives."
In a statement the club explained how Grimshaw had been chosen, but it would not reveal who the other seven finalists were.
It said: "Design credentials and design process were key to selection but equal importance was placed on the individuals, the team and the way they work. In addition, as part of the pre-design listening process Stadium for Bath asked stakeholders, including local residents and supporters, to list their considerations for appointing a lead architect and design team.
"The project team reviewed a long list of top-name architects and specifically engaged with eight as part of the selection process. A fundamental quality of the winning architect was the demonstration of its ability to listen and collaborate with all stakeholders as part of the design process."