Seven-year conservation project on one of Germany's 'most significant' art nouveau buildings picks up Europa Nostra Award
A conservation team led by David Chipperfield Architects has been named as one of the winners of the 2018 Europa Nostra Awards for promoting cultural heritage.
Work on Sanitorium Dr Barner, in Braunlage, Germany, was carried out by Chipperfield's Berlin bureau in partnership with the Monument Authority of Lower Saxony and the University of Hildesheim.
Built as a specialist clinic for psychosomatic medicine and psychotherapy, the sanatorium was described by the awards jury as "one of the most significant art nouveau buildings in Germany".
They said the sanatorium represented a "characteristic element of European heritage" and was "an important example of early 20th-century architecture and interior decoration".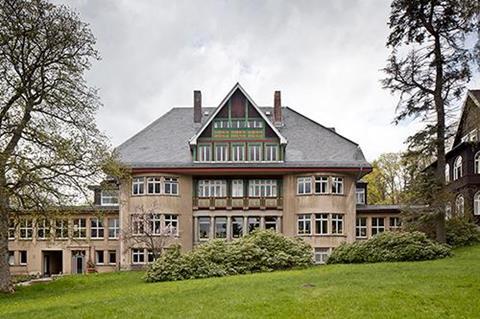 Restoration work, which ran from 2010-2017, carefully repaired the original building fabric, removed inappropriate repairs and interventions and reinstated the visual integrity of individual rooms and building elements.
It also involved the modernisation of technical services and improvement of fire protection measures so that the clinic – which is still used for its original purpose – was able to operate with as few restrictions as possible during the works.
The sanitorium project is one of 29 prize winners from across the continent and North Africa, some of which involved research and promotion rather than conservation.
Other winners included the Hendrick de Keyser Association, which is dedicated to acquiring and conserving Dutch houses of historic and architectural value, and the French television presenter Stéphane Bern.