Diller Scofidio & Renfro and BIG also shortlisted for £140m contemporary complex
The culture agency responsible for delivering a £140m gallery complex in the Australian city of Adelaide has released concept images of designs for the project by the six shortlisted architectural teams.
Arts South Australia last year picked Adjaye Associates, Bjarke Ingels Group, David Chipperfield Architects, Diller Scofidio & Renfro – each of which is teamed with a domestic practice – among the bid teams it wanted to work up ideas. The shortlist also includes a team led by Melbourne-based Hassell, which features New York practice SO-IL; and a Japan-Australia collaboration bringing together Adelaide-based Khai Liew, Sydney-based Durbach Block Jaggers, and Tokyo's Office of Ryue Nishizawa.
The project brief is to deliver a 19,500sq m cultural landmark for South Australia on the site of the former Royal Adelaide Hospital, part of which will involve space in which Aboriginal art is showcased alongside Western art.
A tentative budget of AUS$250m (£140m at today's exchange rates) was also given to would-be designers for the centre, which will also be expected to include research and education space and a public sculpture park.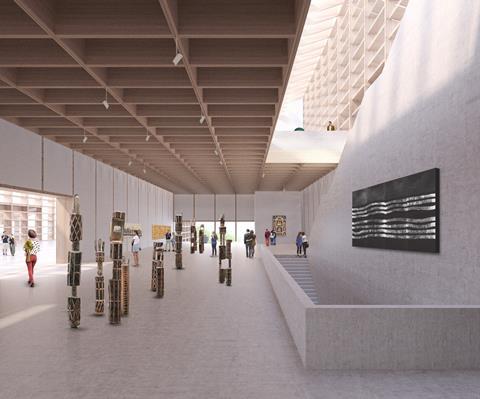 The just-released concept designs were created after the six teams were whittled down from 107 consortia of entrants, made up of 525 individual firms.
Jury chair Michael Lynch, who is also special adviser to the Art Gallery of South Australia board, said the Adelaide Contemporary development could "set the city's compass" for the next few decades.
"Commissioning outstanding architecture is a way Adelaide can say to the world what a fantastic, dynamic city we have, and how deeply creativity is woven into our DNA," he said.
"We have the art to put in the building; we have the appetite and momentum to make this happen."
Competition director Malcolm Reading said the concepts offered a pleasing spectrum of diverse possibilities.
"These proposals are all highly sophisticated. Some are more dramatic, some more subtle but all announce a destination and tantalise with the promise of an experience that is out of the ordinary," he said.
"The winning design will be developed in close partnership with Arts South Australia and other stakeholders."
The designs will be on display in Adelaide for public view until June 10.
The shortlisted teams in full
• Adjaye Associates (London, UK) and BVN (Sydney, Australia)
• BIG – Bjarke Ingels Group (Copenhagen, Denmark) and JPE Design Studio (Adelaide, Australia)
• David Chipperfield Architects (London, UK) and SJB Architects (Sydney, Australia)
• Diller Scofidio & Renfro (New York, USA) and Woods Bagot (Adelaide, Australia)
• Hassell (Melbourne, Australia) and SO-IL (New York, USA)
• Khai Liew (Adelaide, Australia), Office of Ryue Nishizawa (Tokyo, Japan) and Durbach Block Jaggers (Sydney, Australia)