Design Museum exhibition will showcase habitats created for Red Planet living
A new Design Museum show exploring the potential for humans to live on Mars will feature a full-scale prototype habitat created by Hassell, the west London venue has announced.
Moving to Mars opens at the Kensington museum next month and will feature more than 150 exhibits, some provided by Nasa, the European Space Agency, and Elon Musk's SpaceX tech company.
Hassell's full-scale Mars habitat was created as part of Nasa's 3D-Printed Habitat Challenge; the exhibition's "survival" section will also feature a multisensory experience of the Red Planet.
Elsewhere, visitors will be able to see Galina Balashova's designs for Russian space interiors created between 1964 and 1980, and Raymond Loewy's space-station design work.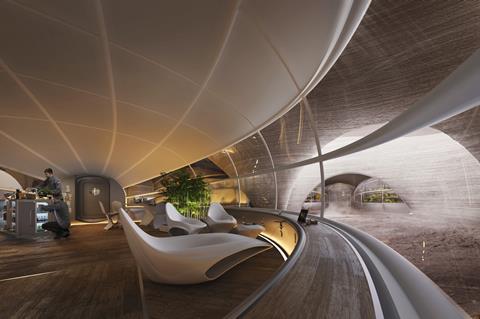 The challenges of dining in space are broached by Nasa's food trays and a newly commissioned spacecraft table by German industrial designer Konstantin Grcic.
Design Museum chief curator Justin McGuirk said that in the year of the 50th anniversary of the Moon landing the potential for humans to travel even further afield was a source of inspiration.
"We are entering a new space age, with Mars once again capturing the popular imagination," he said.
"As a museum interested in emergent futures, we are keen to explore how designing for space can help us design for Earth."
Moving to Mars ruins at the Design Museum from October 18 to February 23. Adult tickets cost from £16.