As someone engaged in the fashion world, the client's eye for aesthetics and enduring style shines through the interiors of this New York apartment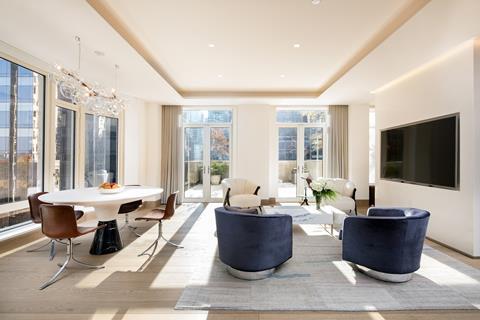 In 1978, Israeli fashion designer Elie Tahari showed his first collection at Studio 54 in New York, just a few years after he had launched his brand.
Now, Ian Schrager's Studio 54 hardcover monograph sits on his living room table, a nod to his early days in New York.
Four decades later, Tahari remains in the city, living in his curated apartment on Central Park West.
Designed by The Turett Collaborative (TTC), the space is a reflection of years of artistry.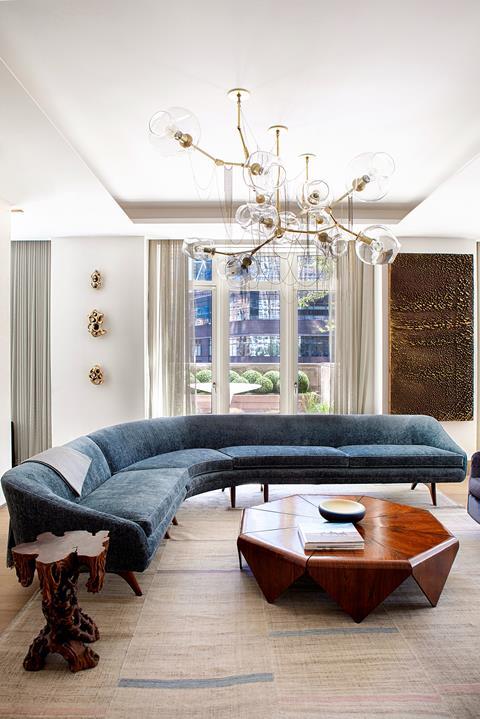 The goal was to make the apartment a sanctuary above the city; together, Tahari and TTC created a peaceful and welcoming home for him and his children.
What began as two adjacent units on Central Park West, a Robert AM Stern building, is now one residence occupying the full floor.
Fittingly, the elevator hall is flanked by two solid walnut pivot doors made from repurposed wood that once served as tables in a Tahari showroom.
On the right hand side of the pivoting doors, guests enter into the living room, which overlooks a terrace. To the left of the elevators, a more personal wing leading to bedroom suites for family and guests.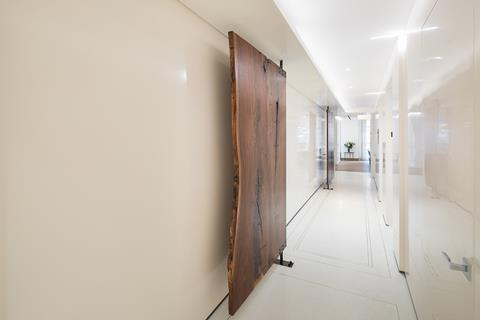 In the living room, TTC selected mid-century antiques, a bespoke Vladamir Kagan sofa – purchased at Phillips Auction House – and a chain-draped fixture designed by Lindsay Adelman.
White walls allow space for the understated palette of the living room.
The art, primarily blue, was sourced with guidance from an Isreali friend of Tahari. Even with the abundance of art and views of the city, the apartment is serene and inviting.
A transitional bar area takes advantage of the plumbing stacks from the remains of the pre-existing powder room, and acts as a buffer between the living room and the dining area.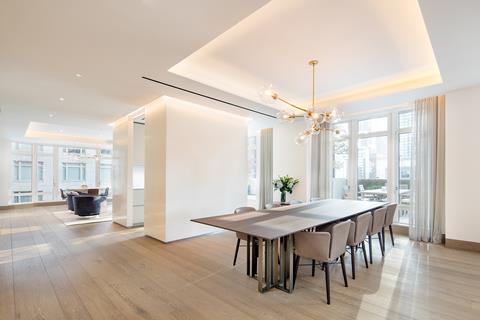 Designed by Val Cucine, the kitchen is structured so that with one touch, a large storage unit is revealed. A scrim can optionally be let down to partition the dining area from the kitchen, ideal for hosting guests.
As a lover of greenery, the client selected a property with a vast outdoor terrace and sought to create a secret garden. In collaboration with Swiss landscape artist Enzo Enea, TTC designed five greenery-filled seating areas and multiple entrances back indoors, including a double door entrance to the master suite.
Below, Columbus Circle hustles and bustles from a bird's eye view.
Project details
Artwork Stanley Casselman, James Nares, Yigal Ozeri, Max Pelzman
Tables Nilufar
Wood doors TTC and Palo Samko
Branching buddles chandeliers Lindsay Adelman Studio
Samode blue rug ABC Carpet
Modular sofa Vladimir Kagan
Wood tripod side table John Salibello
Swivel lounge chairs Milo Baughman
Drapery Dedar
Kitchen Val Cucine
Stools CITE
Bookcase/desk unit Atlas Industries
Carpet Crosby Street Studios
Peonies mural Jarlath Mallet