New housing secretary answers questions on Grenfell Tower and green belt in Parliament just hours into post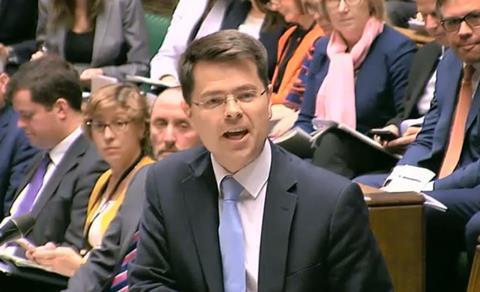 New housing secretary James Brokenshire was in parliament answering questions on delivery targets, the green belt, council homes, the Hackitt Review and local government finance fewer than five hours after his appointment was announced.
Brokenshire was drafted in to the hot seat at the Ministry of Housing, Communities and Local Government in a mini reshuffle triggered by former home secretary Amber Rudd's Sunday night resignation that saw former housing secretary Sajid Javid moved to the Home Office.
Revealed as the new housing secretary shortly after 10am on Monday, he was fielding questions in the House of Commons alongside his ministerial team by 3pm, defending the government's record on affordable housing and refusing to outlaw the use of flammable cladding on high-rise towers ahead of the findings of the Hackitt Review.
Brokenshire, who served as Northern Ireland secretary until he resigned in January to receive treatment for a lung tumor, declared himself "delighted to have been appointed to this new role to deliver on housing".
He added: "One of the government's top priorities is creating great places to live."
Brokenshire repeated Javid's previously stated aspiration to get England "building up to about 300,000 homes a year", which he said was "the real focus and commitment" of the government.
"It is about affordability and it is about ensuring that people have a positive sense for the future about getting into the housing market, and that is what this government are determined to do," he said.
Housing minister Dominic Raab told the debate that 217,000 new homes had been delivered last year, but insisted ministers were "restless" to do more.
Shadow housing secretary John Healey clashed with Brokenshire over the government's record on "genuinely affordable social rented homes", of which Healey said 40,000 were started in the last year of the last Labour government, and "fewer than 1,000" backed by the current government last year.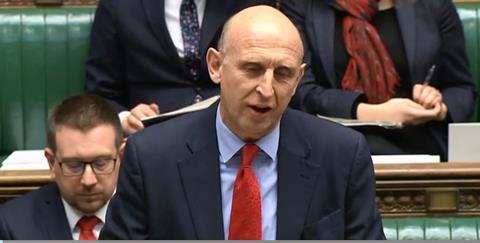 Brokenshire retorted: "Even Labour councils build more homes under a Conservative government", pointing to a resurgence in local authority homebuilding that has occurred at the same time as a significant drop in housing-association delivery.
However Brokenshire suggested he was looking to local government to play a greater role in the delivery of new homes.
"I very much look forward to working with local government to make sure that we deliver on that agenda, because that is what this country needs and what will make a difference to people's lives," he said.
Following the Grenfell Tower tragedy, Brokenshire was asked how many high-rise residential buildings had so far had dangerous cladding removed and replaced.
The secretary of state answered only in relation to "social housing buildings", of which he said 158 had been identified, 104 had started remediation and seven had seen remediation finish.
Labour MP Andy Slaughter – whose Hammersmith constituency is immediately west of Kensington, were Grenfell Tower and the Lancaster West Estate are – asked whether Brokenshire would use his "new authority" to insist that only non-combustible class A1 materials be used on the outside of new buildings as was the case in the rest of Europe.
"I doubt that he would live in a building that was clad in combustible or partially combustible material, so why should my constituents do so?" Slaughter remarked.
Brokenshire responded: "I want to underline my commitment to giving priority to these issues. This has been an utter tragedy, and our priority has to be – as it was with my predecessor – to ensure that survivors and communities receive all the support that they need."
The secretary of state said Slaughter would be aware that the Hackitt Review was looking at a range of issues. "I would not want to prejudge that review, but he makes an important point and I am sure that it will be examined," he concluded.
Brokenshire was asked by fellow Conservative MP Desmond Swayne whether he would encourage local authority planners to negotiate higher proportions of affordable housing in new developments. He gave a non-committal answer.
"I will certainly reflect on the feedback that I receive from across the house in the days ahead," he said. "I will listen closely to the comments from my right honourable friend and others and, certainly, as we look at the national planning policy framework, we will consider those matters carefully."
Brokenshire was also asked to state his support for preserving green-belt land and pledge government support for the remediation of brownfield sites, which it was argued was a necessary quid-pro-quo for directing development away from easier-to-build-on land.
The secretary of state said he shared the desire to see more brownfield development but accepted there were "issues relating to funding for remediation".