'UK cannot rely for trade deals on countries with historical reasons to hate us'
Brexit is the "stupidest thing" Britain has done and will inevitably push the economy into decline, Neave Brown has warned.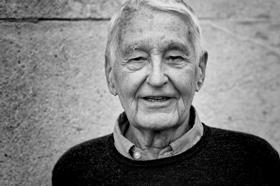 The country will gradually be "closed out" by potential trading partners, he said in an interview to mark today's ceremony when he will receive the Royal Gold Medal, the RIBA's highest honour.
He said the EU needed significant reform to wrest it from the dominance of neo-liberal economic dogma, but that leaving was "the stupidest thing we could ever do".
And he warned that countries we are looking to for future trade deals may not be happy to give Britain a helping hand.
"England's economy will decline and we will slowly be closed out," he said.
"We ought to remember many of the countries we want to deal with have a profound dislike of the old European dominance, and they are the countries that are growing: India, Russia, China, South East Asia, even Africa.
"We underestimate that they have a background of detesting England because of the Empire and what we did."
Brown will be awarded the Gold Medal at a ceremony at Portland Place today in honour of his life's work.
RIBA president Ben Derbyshire praised Brown's contribution to the development of modern British housing as profound and inspiring and said the government should look to his pioneering ideas to solve today's housing crisis.