Final report recommends new approval body for buildings over 10 storeys - but no ban on flammable materials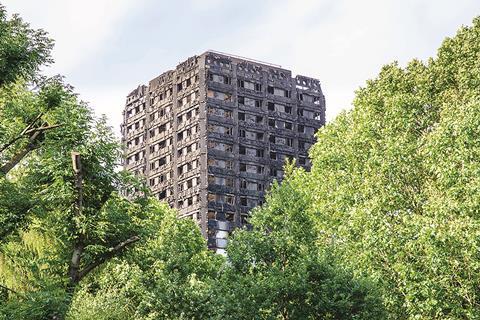 The RIBA's calls for combustible cladding materials to be banned from the construction of tall buildings has been rejected by Dame Judith Hackitt in her report published this morning.
The review of fire safety rules, undertaken in the wake of Grenfell tower disaster, has proposed the creation of "less prescriptive" regulation and cutting out private-sector Approved Inspectors from performing building control on high-rise buildings.
Hackitt's final report recommends the creation of a new organisation, made up of Local Authority Building Control (LABC), Fire and Rescue Authorities (FRAs) and the Health and Safety Executive (HSE), to oversee the approval and regulation of buildings higher than 10-storeys.
It also appears to be proposing greater responsibility for the principal designer through CDM regulations.
There are people out there taking shortcuts, cutting costs and not taking responsibility for building buildings that are safe for people to live in

Dame Judith Hackitt
As widely expected, Hackitt has declined to proscribe the use of flammable materials in cladding systems, despite widespread calls for her to do so.
The RIBA's first recommendation in its briefing to Hackitt called for: "External wall construction for existing or new buildings with a storey 18m or more above ground to be comprised of non-combustible (European class A1) materials only."
Earlier this month Jane Duncan, who was RIBA president at the time of the Grenfell fire in which 72 people died, said she was "not convinced" that the Hackitt review would prevent a repeat of the disaster in west London nearly a year ago.
Hackitt's report instead says it is for the construction industry to "respond to the [building regulations] by shaping detailed guidance to support the delivery of those outcomes."
She said: "My investigation has determined that there are people out there taking shortcuts, cutting costs and not taking responsibility for building buildings that are safe for people to live in."
She proposes scrapping the government-industry Building Regulations Advisory Group which oversees the creation of guidance, and the creation of a "new structure" to "validate and assure" the guidance created by industry. However, she makes no recommendation as to the industry body or bodies that should be involved in drawing up the new guidance.
Hackitt's report recommends the creation of a new definition in the building regulations system of multi-occupancy higher risk residential buildings (HRRBs) of more than 10 storeys in height, which the new Joint Competent Authority (JCA) made up of LABC, FRAs and the HSE should oversee. This is a significant change from the current definition in building regulations of "high rise" buildings as 18-storeys or higher.
Only the JCA will be able to approve HRRBs, with Approved Inspectors, who currently compete with LABC to provide Building Control services on all buildings, only able to subcontract to LABC or work directly for building owners.
The JCA will not be set up by merging LABC, FRAs and the HSE, but by requiring the three bodies to work together.
Dame Judith said: "This is a systemic problem. The current system is far too complex, it lacks clarity as to who is responsible for what, and there is inadequate regulatory oversight and enforcement.
"Simply adding more prescription or making amendments to the current system, such as restricting or prohibiting certain practices, will not address the root causes."
The Labour Party yesterday restated its call for the government to ban the use of combustible cladding materials, a position backed by the RIBA, the Association of British Insurers and survivors of the Grenfell fire.
Other recommendations from the report include:
Redefined responsibilities for safety based on the existing duty holders under the CDM regulations, with a requirement for robust record-keeping
A new testing regime for products
Building regs guidance that is simpler to navigate
More rigorous enforcement powers with more serious penalties for "those who game the system"
A series of "gateway points" where "dutyholders" have to prove to the JCA that their plans are "detailed and robust"
Hackitt recommends the creation of three defined points during design, delivery and construction, called Gateway Points. The first will be at planning permission stage, which will include a statutory requirement for planning departments to consult with the JCA on fire safety.
The second will be at full plans approval stage, where the principal designer will present the JCA with full plans for approval, and without which work can't start. Finally, the full details of building as built plus a fire risk assessment will be required at completion, before occupation can commence.
More to follow…