Gloucestershire scheme will conserve heritage buildings and deliver 100 new homes
Assael Architecture has won planning permission for proposals to redevelop the site of a disused textile mill in Gloucestershire with 100 homes and new community facilities.
Its plans for the grade II listed Ham Mill site near Stroud will see the five-storey structure refurbished and converted into 22 apartments with commercial space at ground-floor level.
Elsewhere on the site – which is part of the Stroud Valleys Industrial Heritage Conservation Area – new homes will be built to "yards and alleys" patterns that Assael said were based on the site's existing footprint.
The practice said the remainder of the project's new housing will come in the form of 55 two-storey townhouses and four new-build apartment blocks.
Assael said its design sought to secure the future use of key heritage buildings on the site by introducing new routes to the nearby River Frome and providing a range of landscaped open spaces for residents and the general public.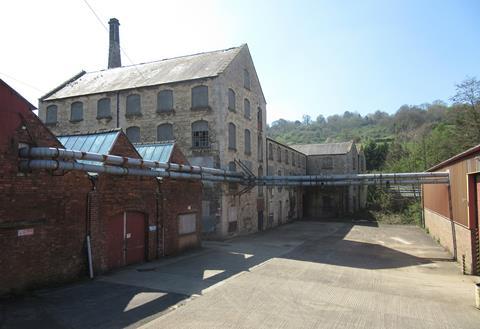 Practice director Peter Ladhams said: "The building layout has been inspired by the existing industrial character, concentrating new development to the original warehouse footprints, reforming the yards and alleys, and referencing the industrial materials and details that form the simple architecture
"The residential and commercial space will bring life and enterprise back to the site after 17 years of vacancy."
Assael said cloth production had started at Ham Mill in 1608, continuing until 1900 when it was bought by a carpet manufacturer that occupied the site until 2000.