Peter Bishop to chair body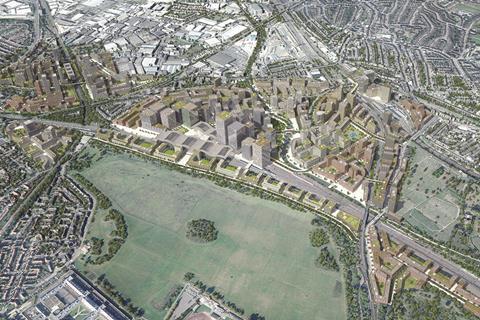 Peter Bishop has been picked to chair the Old Oak and Park Royal Development Corporation's new place review group.
The Allies & Morrison director and Bartlett professor is one of 22 built environment professionals appointed to the group after an open invitation for applications.
They include Biba Dow of Dow Jones, Gillian Horn of Penoyre & Prasad, Philip Marsh of dRMM and Roger Hawkins of Hawkins Brown.
Richard de Cani has also been appointed. He now works for Arup but was previously MD of planning at TfL where he was criticised for the way he handled the procurement of the Garden Bridge.
The panel members will be expected to help shape the future of the UK's largest regeneration project. The 650ha brownfield site, in a previously poorly connected part of west London, has been identified as having the potential for 25,000 homes and thousands of jobs. It will become the interchange for Crossrail and High Speed 2.
Bishop said Old Oak Common would be the "most important new development opportunity in London since the Olympics at Stratford".
"But this area has huge design challenges," he added. "The role of the panel will be to assist the OPDC to design an exemplary new piece of London, a place that builds on its history and its existing communities to be a location of choice for people to work, live and visit.
"Old Oak Common should aspire to be the next London paradigm that sets the standards for the future."
The OPDC has also asked Frame Projects to recruit local people to join a new community review group that will sit alongside the place review group to provide comments on development plans in the area for consideration by the OPDC planning committee and OPDC board.
The Place Review Group will follow the 10 design review principles jointly agreed by the RIBA, Design Council Cabe, the Landscape Institute and RIBA.
OPDC Place Review Group members
Peter Bishop, UCL / Allies and Morrison
Adam Brown, Landolt & Brown
Adriana Marques, Peabody
Andrew Thornhill, Churchman Landscape Architects
Anthony Hollingsworth, London Legacy Development Corporation
Beth Kay, London Borough of Haringey
Biba Dow, Dow Jones Architects
David Bonnett, David Bonnett Associates
David Lyndon, Lyndon Goode Architects
Gillian Horn, Penoyre & Prasad
Graeme Sutherland, Adams & Sutherland
Hanif Kara, AKT II
Karen Scurlock, Karakusevic Carson Architects
Linda Thiel White, Arkitekter
Paul Monaghan, AHMM
Philip Marsh, dRMM
Richard de Cani, Arup
Robin Nicholson, Cullinan Studio
Roger Hawkins, Hawkins Brown
Sowmya Parthasarathy, Arup
Vincent Lacovara, London Borough of Croydon
Will Durden, Momentum Transport Consultancy