British architect beats four global practices to design Mumbai international airport
Zaha Hadid Architects has won an international competition to design an airport in Mumbai, its first major project on the Indian subcontinent.
The practice was selected after a "challenging and intensive 12-week fast-track design competition among the best international architecture firms".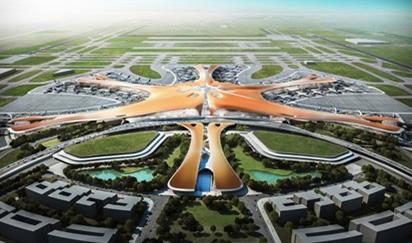 The shortlist was drawn up by GVK, operator of Mumbai's existing Chhatrapati Shivaji International Airport which is fast approaching capacity. It would not name the other four contenders.
The new Navi Mumbai International Airport will eventually be able to handle more than 60 million passengers a year.
It will be built in phases on 1,160ha in Navi Mumbai, a new town across Mumbai Harbour from the city. A planned Mumbai Trans Harbour Link will connect the airport to the city and rail links to the rest of the country.
ZHA, which is also designing the £9bn Daxing airport in Beijing (pictured), has been appointed to design terminal one and the air traffic control tower as well as landside access. The project is due to be completed by December 2019.
Dr GVK Reddy, founder and chairman of GVK, said: "We are committed towards bringing the best global practices from the industry to design, engineer and build this most awaited airport project in India and hence we decided to go with ZHA, a firm known for its path breaking and remarkable architecture. It also has the expertise of delivering a world-class airport design through a highly professional team."
The practice's chief executive, Mouzhan Majidi, said it would be one of the most sustainable passenger-centric airports in the world.
Cristiano Ceccato, ZHA project director, said: "We are very proud to have been awarded the Navi Mumbai International Airport that will be a much-needed addition to Mumbai's infrastructure and an additional gateway to India. Our ambition is for the design to speak to India's future, while celebrating its present and honouring its past."