£2.6m project set to restore derelict art nouveau Glasgow tenement
A Page/Park Architects-led project to restore a dilapidated art nouveau Glasgow tenement building to its original glory has begun.
Described by Glasgow council as one of the few remaining historic buildings in the Gorbals area following the clearances of the 1960s and 1970s, the British Linen Bank was built in 1900 to a design by James Salmon.
The bank which gave the building its name was located on the ground floor of the red sandstone structure in Gorbals Street, along with an adjacent shop, while six flats were on its upper storeys.
However, the tenement – which has Category A listed status from Historic Environment Scotland in recognition of its significant architectural quality – was acquired by Southside Housing Association in 1990 and subsequently mothballed.
Under the £2.6m restoration package for the structure pulled together by Southside, the building will be refurbished, with the retention and renewal of original features, delivering a ground-floor commercial unit and six two-bedroom flats, earmarked for what Glasgow council describes as "mid-market rent".
Page/Park's proposals also involve the completion of a corner turret for the structure, which was in Salmon's original design, but never built.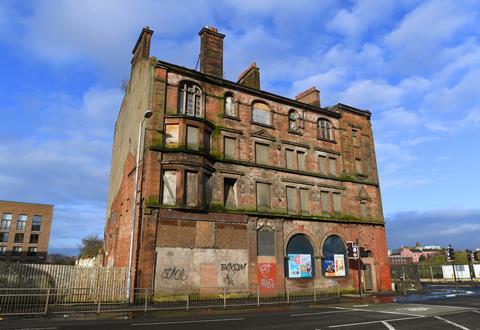 Ian Dyer, of Southside Housing Association, said the project was the pay-off for "years of perseverance" and would see the building preserved for future generations.
"We are confident that this fine traditional tenement will complement the regeneration work of our friends in New Gorbals Housing Association and add to the vibrancy of the local neighbourhood," he said.
In addition to the British Linen Bank, James Salmon was responsible for several notable buildings in the west of Scotland, including Lion Chambers in Hope Street and the Hatrack Building in St Vincent Street – both Glasgow – and a number of villas in Kilmacolm.
The British Linen Bank was a commmercial bank with its roots in Scotland's textile industry. It was bought by the Bank of Scotland in 1969.
Work on the project to restore the building that housed its Gorbals Street branch is due to complete in spring 2019, Glasgow council said.