Awards also go to a raft of heritage stalwarts, including Historic England deputy director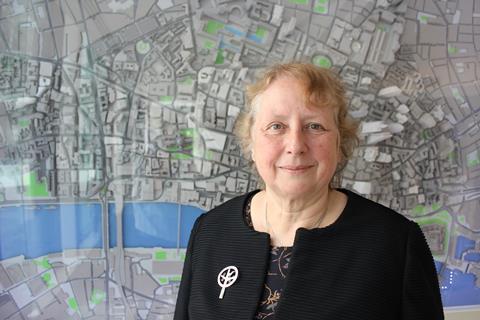 The woman who has helped shape the City of London's skyline for the last three decades leads this year's New Year's Honours in the built environment.
Annie Hampson, the City's chief planning officer, was awarded the OBE for services to planning in London, where she has also worked at Kensington & Chelsea and Islington councils.
At the City her work, heading a team of 40, has included overseeing Foster's Gherkin, KPF's Heron Tower and Jean Nouvel's One New Change as well as the emerging eastern cluster which includes 122 Leadenhall Street, 22 Bishopsgate (the largest office building in Europe), 6-8 Bishopsgate, and 1 Leadenhall Street.
She also oversaw the Millennium Bridge, Paternoster Square, bringing Temple Bar back to the City and the redevelopment of Barts Hospital and St Ethelburga's Church after the IRA bomb.
She said: "It is a great honour to receive this recognition for my contribution to planning in London. It would not be possible without my excellent colleagues within the City Corporation and those I have worked with across London, as well as my family.
"I am grateful that this job has provided me with the opportunity to work on so many iconic projects and to be able to promote planning as a great career, for women in particular.
"For almost 30 years, I have been involved in some way with virtually every planning project in the City of London, resulting in the redevelopment of over a third of the City.
"I now look forward to the City's continuing innovative development to ensure its future and to retain its special character."
In infrastructure, Aecom global long-span and speciality bridges director Robin Sham was awarded a CBE for services to civil engineering. He has been involved in projects including the Aberfeldy Bridge in Scotland, the Second Severn Crossing and the Sutong Bridge in China, which was the world's longest cable-stayed bridge when completed.
National Infrastructure Commissioner and co-founder of DeepMind, Demis Hassabis received a CBE for services to science and technology.
Other honours went to deputy director of Historic England Deborah Lamb, who received an OBE for services to heritage. Lamb's role at the heritage adviser gives her responsibility for making the case for heritage and the organisation to the government and the public.
Former president of the Historic Houses Association Edward Mortimer Harley also received an OBE for services to heritage, as did freelance archaeologist and architectural historian Tim Tatton-Brown, a member of the Historic England Advisory Committee.
The writer and academic Richard Sennett, chair of the LSE Cities Programme, was awarded an OBE for services to design.
Pocket Homes chief executive Mark Vlessing got an OBE and Stephen Howlett, group chief executive of Peabody, received a CBE, both for services to housing.
Ian Harrabin, director of the company Complex Development Projects, was awarded an MBE for services to heritage and regeneration in Coventry.
Darrell Buttery, former president and chairman of York Civic Trust, received an MBE for services to heritage in the city.
Peter Andrew, deputy chairman of the House Builders Federation, got an MBE for services to the construction Industry.