Fire suppression system was 'weeks from being operational'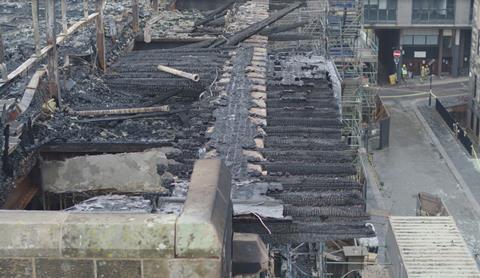 The giant water pumps needed for the Mac's fire suppression system were delivered the day before it was destroyed by last weekend's blaze.
The British Automatic Fire Sprinkler Association said the pumps required for the water mist system had just arrived on site.
It would have taken weeks to assemble and install the system and then test it before it could be switched on, Keith MacGillivray, chief executive of the British Automatic Fire Sprinkler Association, told BD.
Meanwhile Glasgow council leader Susan Aitken said the Mac's fire-damaged walls have shifted by six inches.
Movement in the façade has prompted safety officers to warn that the building could collapse at any time.
Raymond Barlow, the city's head of building control, said last week: "Surveys in recent days have shown us that the west and east elevations remain of significant concern.
"This means that there is a risk that parts of the building might fall into Scott Street or Dalhousie Street. This could happen without warning."