Council warning comes as Scotland secretary visits 'scene of devastation'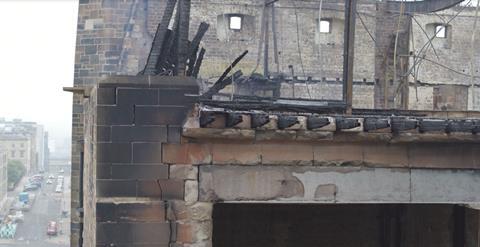 Parts of the Mackintosh Building could collapse at any time without warning, the city's head of building control has said.
Surveys have left experts with "significant" concerns about the state of the east and west elevations – the two short sides of the art school – said Raymond Barlow.
There have been reports of people breaching the scaled-back cordon that remains around the building and its neighbours in Garnethill.
Barlow said he understood people's desire to get back inside their homes but urged the public to stay away.
"Surveys in recent days have shown us that the west and east elevations remain of significant concern," he said.
"This means that there is a risk that parts of the building might fall into Scott Street or Dalhousie Street. This could happen without warning.
"Our number one priority is public safety and It is therefore simply too dangerous to allow anyone to access the site."
Drone footage of the grade A-listed building shows the extent of the damage of last Friday's fire, including the poor state of some of the external walls.
Meanwhile the Secretary of State for Scotland David Mundell visited the burnt-out building today, less than a month after he visited to inspect Page/Park's reconstruction project.
In a statement he said: "Today I visited the site of the Glasgow School of Art fire. It's a scene of devastation, utterly shocking to behold. Having seen the splendour of the painstakingly refurbished building just two weeks ago, it is an absolutely heartbreaking sight.
"My sincere thanks go to the fire service personnel who fought so hard to ensure no lives were lost and the damage was not even worse.
"Today I also met the school director, Professor [Tom] Inns, and several of his team. Their love of this architectural masterpiece is clear, and their resilience and optimism in the face of this terrible tragedy is impressive.
"I share their conviction that the Mac will one day rise again in all its glory. It is still early stages in properly assessing the damage, but we all hope the building can be saved, and the UK government stands ready to help."