Sam Jacob and Maki worked on Shenzhen project
The V&A's first international outpost, designed by Sam Jacob Studio, has opened in China.
The V&A Gallery in Shenzhen, north of Hong Kong, is part of a larger cultural centre which was designed by Japanese practice Maki & Associates.
V&A trustee Mark Damazer said it was the first UK museum to open a site on such a scale outside the country.
Jacob, one of the three founders of FAT, has also designed the gallery's first, semi-permanent exhibition, Values of Design.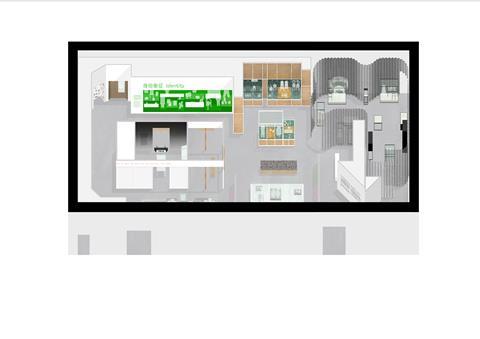 It features 250 objects from the V&A's permanent collection and new acquisitions from the Pearl River Delta and was curated by Brendan Cormier around seven values that have influenced design, from performance to cost.
"The show is about things, and the ideas behind things – where art history is framed as a useful way of thinking about design in the 21st century, in a city where design and manufacturing are going through rapid change," said Jacob.
The gallery is organised as a series of bays around a central nave anchored by two large multiscreen installations. A pavilion sits within the space, creating distinctions of scale, interior and exterior.
"The design of the gallery organises space, material and media to make an intellectually rich and visceral experience, advancing a sophisticated understanding of the way design shapes the contemporary world," said Jacob.
"The fresh and evocative approach to the gallery's spatial organisation and display responds to the sensation of Shenzhen as a place of new possibilities for the future of design while drawing on the rich history and collection of the V&A."