Decaying grade II* assembly rooms dubbed city's 'top priority' building at risk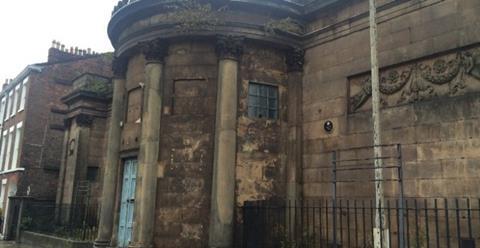 Liverpool council has announced the start of a programme of urgent repair work on the grade II* listed Wellington Rooms, which have been disused for two decades.
The Georgian assembly rooms and ballroom, designed by Edmund Aikin, was completed in 1815 and most recently served as home to the city's Irish Centre. However it has been closed for two decades and is in a state of decay accelerated by a leaking roof and dry rot.
The city council said it was jointly funding a programme of emergency work on the Mount Pleasant building, in partnership with government heritage adviser Historic England. It said the six-week programme, being undertaken by preservation specialist Quadriga, was intended as a first step towards a comprehensive restoration programme.
Liverpool's deputy mayor, Councillor Ann O'Byrne, said ensuring the Wellington Rooms did not deteriorate further was right at the top of the authority's "priority list" for action.
"It has an amazing history and is hugely important to the people of Liverpool," she said.
"These urgent repairs are the start of a long journey to return it back to its former glory, but we are now starting to make progress in working with partners to identify a deliverable a sustainable end use."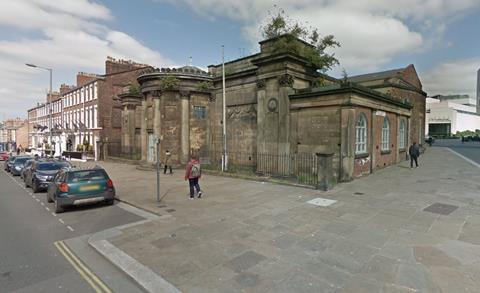 Charles Smith, Historic England's principal adviser on buildings at risk, said the Wellington Rooms was "in the top 8%" of the most important historic buildings in the country.
"As a much-loved venue for weddings and events, it has featured in the lives of many Liverpudlians over the past 200 years," he said.
The neo-classical building lies in the buffer zone of Liverpool's Unesco World Heritage Site. Plans were initially approved for it to become a function suite in 2002, but were never implemented.
Applications for it to become a hotel in 2006 and 2007 were rejected because of the detrimental impact of a proposed three-storey extension.
Merseyside Buildings Preservation Trust is currently consulting with local shareholders and businesses on the results of an options appraisal of the building. It is hoping to secure a development partner by the summer to oversee the full restoration of the building, in partnership with the city council.