Survivors' barrister censures contractors, architect and suppliers for failing to comment
Key firms involved in the refurbishment of Grenfell Tower, including architect Studio E, have been accused of trying to undermine the public inquiry by the barrister representing survivors of the fire.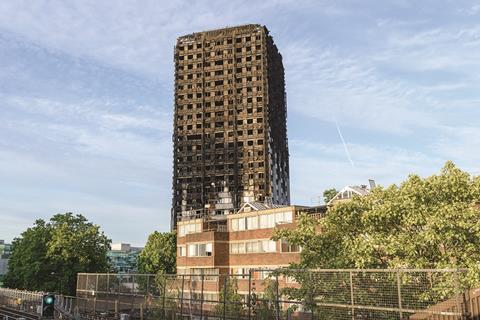 Design-and-build contractor Rydon, the architect, subcontractors and suppliers were taken to task for staying silent on the work they undertook at Grenfell and whether or not it complied with regulations.
Stephanie Barwise QC, who is representing survivors and the bereaved at the inquiry, said the position being taken by the contractors and designers was "inhumane" and potentially detrimental to the inquiry.
Barwise said: "Their stance that they need more than the documents they already have before engaging at all with any of the criticisms made of them is demonstrably untenable and disingenuous.
"These contractors should not be allowed, by their deliberate refusal to participate, to derail determination of the compliance issue, even though we are concerned with blatant non-compliance. It is inhumane to remain silent when so many seek understanding and answers, answers which are within the corporates' gift."
Barwise said the involved parties had fallen well short of their "obligation" of demonstrating their work was compliant.
She said: "Rydon, the main contractor under a design-and-build contract, is being obtuse in arguing, as it does in its position statement, that it was not responsible for critical decisions.
"Rydon was retained pursuant to the preconstruction agreement to carry out preliminary facade design work, obtain planning permission and prepare a mock-up for the cladding. It was to be paid £350,000 under the agreement, of which £35,000 was expressly referable to those items.
"Such work was expressed by the preconstruction agreement to be carried out under the terms of the design-and-build contract to be entered in due course.
"Whether or not others had suggested or dictated the use of certain materials, Rydon would anyway have been under an obligation implied either by the design-and-build contract and/or the preconstruction agreement to warn RBKC [Kensington & Chelsea council] if the materials were unsuitable or hazardous or non-compliant."
Barwise threw further criticism at Rydon saying it had not met the original plans laid out by architect Studio E.
"In any event, Studio E's specification had previously required higher-quality materials than were in fact used. Fire resistant Celotex, FR5000 not RS5000, was specified originally, and the rainscreen cladding proposed for the spandrel and column panels was an aluminium honeycomb core bonded between two zinc skins," she said.
"Rydon was asked to submit alternative costs for Reynobond over Alucobond and zinc but, as detailed designer of the cladding, it would have been for Rydon or its subcontractors to consider the degree of resistance to fire necessary and to warn if it considered them insufficient.
"It is therefore disingenuous of Rydon to suggest that someone else made all the critical decisions before it became involved and it was stuck with them."
Rydon's subcontractors have also been censured, with CEP, the subcontractor which purchased and fabricated the cladding, facing particularly fierce criticism.
She said: "If CEP wishes not to incriminate itself, that is its choice, but it is disingenuous for CEP to plead inability to comment on the compliance of its own work. The same applies to Harley, as it does also to Studio E.
"These parties make no comment on the detailed criticisms of their work, nor do they even comment on drawings which they themselves drafted.
"Significantly, they do not indicate how they propose to achieve compliance, assuming, that is, that they ever applied their minds to that question."
She said comments from contractors and suppliers clearly stating their positions and responses to the positions taken by others were overdue.
The day after the fire in June last year, Studio E posted a statement on its website which ended: "It would be inappropriate for us to comment or speculate on events on Wednesday morning. We will be available to assist the relevant authorities as and when we are required."