Practice crafts studio and art complex at £40m six-storey Soho block
New images have been released of Stiff & Trevillion's £40m art deco-inspired Soho block which is being turned into a studio and art complex for artist Damien Hirst.
Hirst, whose Newport Street Gallery – designed by Caruso St John Architects – won the 2016 Stirling Prize, acquired his new Beak Street base from Enstar Capital and Landcap.
The six-storey 2,500sq m building was built on the site of a former police station and section house to what the developers described as "an exceptional specification" and with what it said would be "spectacular interiors".
Its exterior has an art deco-style pediment, a bespoke cast aluminum frieze and window surrounds. The façade features more than 100 types of differently glazed brick imported from the Netherlands.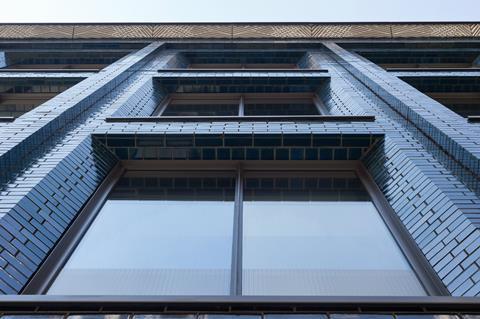 The developers said that Hirst's requirement for "voluminous double-height space" had seen the building's second-floor slab practically removed" to give a cathedral-like space with a 10m high ceiling that was ideal for producing and displaying large-scale artwork.
Trap doors and openings throughout the building allow for artwork to be moved between floors.
They also said the main entrance foyer would deliver a space comparable to a boutique hotel, while its washrooms had been inspired by the Savoy Hotel and Soho House, and were finished in carrara marble.
Fit-out work is due to complete in time for an opening early next year.