Manchester towers 'first of their kind' in city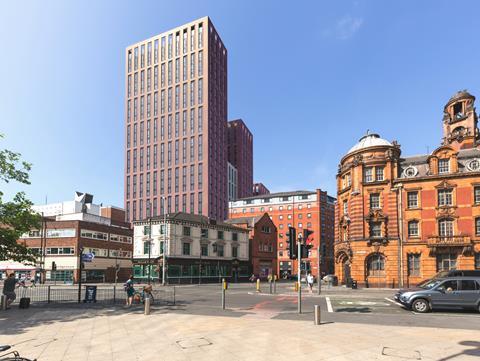 Sheppard Robson has won planning permission for a high-density residential scheme in Manchester city centre that combines co-living homes with student accommodation in a high-rise development.
The practice's Echo Street development brings together 403 co-living units with shared communal space and 94 student units of varying sizes in a scheme that unites towers of 25, 20 and 14 storeys. The student element would deliver a total of 242 beds in a mix of studios and multiple-occupancy flat clusters.
Created for developer iQ Student Accommodation, the scheme is barely 100 metres from Manchester Piccadilly Station. Sheppard Robson said it would be the first of its kind in the city and a frontrunner in the UK.
Practice partner Rupert Goddard said the project's form, materiality and tenure were "all rooted in the diversity of what is a catalytic site for an important emerging Manchester quarter".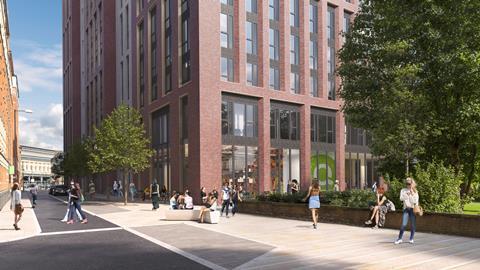 He added: "The building will offer something complementary to the city's PRS market, with new models for urban living helping to retain graduate talent within central Manchester."
Sheppard Robson said the building's façade was made up of red brick with metal accents adding variation and texture, "creating a contemporary interpretation" of the Whitworth Street Conservation Area that it borders.
It said the approved design had "been conceived as a confident response that is rooted in Manchester's spirit of progress and innovation".
When iQ consulted on the proposals last year, it said the scheme would target young professionals as well as students, and that the scheme had been designed to provide housing options that grew with residents as their careers progressed.
Chief executive Rob Roger said Echo Street would provide young professionals with flexible accommodation in a community with "well-thought-out collaborative social and working spaces" that were "not too dissimilar to the benefits experienced as a student at university".