Practice previews vision for new £150m Milton Keynes base
LOM Architecture and Design has revealed a concept design for the interior of banking giant Santander UK's £150m new national technology hub.
Earlier this month Santander announced it would redevelop its existing corporate offices in Milton Keynes, delivering a new development that would accommodate more than 5,000 employees in an environmentally friendly building with a rooftop running track.
LOM said the new digital hub would foster collaboration and growth among staff, while reinforcing the reputation of Milton Keynes as a centre for tech innovation.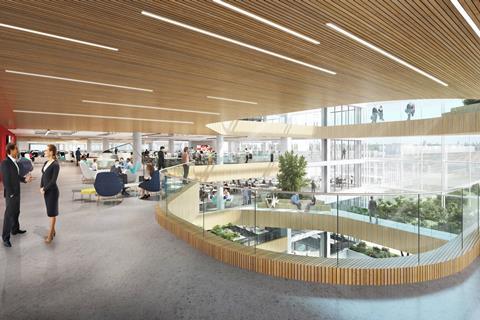 The practice said its design aimed to increase permeability and access through the building and the site, with a ground level conceived as open, fluid, publicly accessible and featuring flexible space that could be reconfigured to suit changing requirements.
LOM director Richard Hutchinson said the new building, which is a short walk towards Milton Keynes town centre from the main train station, had been "conceived as a compact campus" that would encourage community engagement through "innovative design and placemaking".
Santander said it envisaged submitting a planning application for the proposals in early 2019 and for the complex to open in 2022, subject to consent.