Berkeley Hotel won consent for similar, unbuilt scheme 10 years ago
Rogers Stirk Harbour & Partners proposals to redevelop part of a five-star hotel in one of London's most expensive areas are set to be approved by Westminster council today.
The practice has worked with the owners of the Berkeley Hotel since 2006, masterminding the redevelopment of the building's Wilton Place entrance, and is now set for consent to replace its northernmost parts, boosting the room count and providing 13 apartments
RSHP's proposals, for the Berkeley's Knightsbridge Wing and 33-39 Knightsbridge opposite Hyde Park, would update and expand a scheme approved in 2008, and deliver 59 additional hotel bedrooms, a new restaurant, gym and a spa in a scheme of up to 10 storeys and four basement levels.
Documents submitted to members of Westminster's planning committee pointed to a handful of local objections to the scheme, including from the Knightsbridge Association.
It said the latest scheme was an improvement on the 2008 plans, but criticised its top floor for being heavy, square and dark – and resembling "an outsize water tank" – and suggested that the new section's top storey would be better if were built with materials matching its main facades.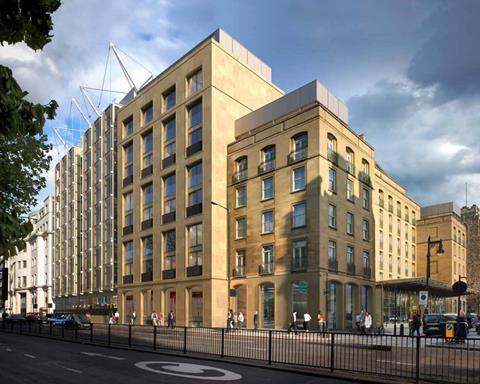 RSHP's design and access statement for the new plans said it had sought to draw a "conceptually clear" distinction between the residential and hotel-extension elements of the new scheme, as opposed to the previously approved proposals.
It added that the hotel element featured a suspended façade system designed to maximise views out to Hyde Park.
Recommending the scheme for approval, Westminster planning officers said the updated proposals delivered "a more sensitive transition" between the new-build element and the existing hotel, and an improvement to park views.
"The subdivision of the building into different elements helps to break up its overall mass," they said.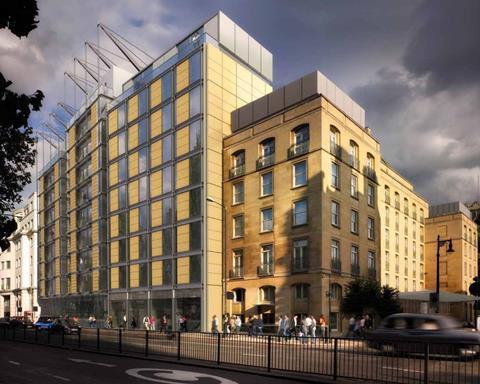 "The design is considered acceptable given the prevailing mixed character of Knightsbridge and it will not cause harm to the setting of the adjacent designated heritage assets and is in accordance with national and local policy."
The latest incarnation of the scheme will take the Berkeley's room-count to 273, up from the current 214. The hotel's rack rate ranges from around £300 a night for a single room to more than £2,000 a night for some suites.
The Berkeley traces its origins to 1700 when it was the Gloucester Coffeehouse on the corner of Piccadilly and Berkeley Street. It adopted its current name and status in 1897 and moved to its current home in 1972. Designed by British architect Brian O'Rorke, the hotel incorporates restored features from the original building, including fireplaces in the suites. It has a swimming pool on the top floor.
The planning committee meets at 6.30pm.