Architect hoping it will be third time lucky at west London site

Detailed images of RSHP's proposals for Hammersmith's jinxed town hall redevelopment have been released as part of a public consultation.
They include adding two storeys and a roof garden to the art deco town hall and flanking it with flats, retail, a cinema and offices.
A planning application is expected to be submitted in February and if approved work will start on site at the end of the year and should complete in 2021.
Richard Rogers' practice is the third architect to have a crack at the site after Sheppard Robson and Lifschutz Davidson Sandilands schemes came to nothing.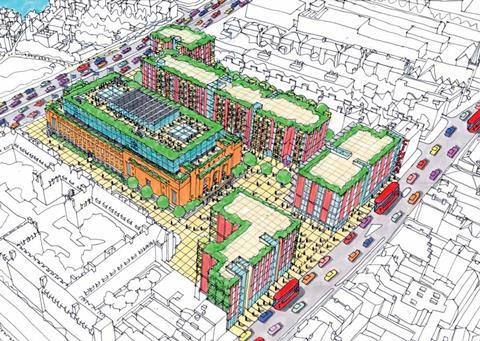 Sheppard Robson's 14-storey towers fell victim to local opposition and, while LDS won planning consent for a lower-rise scheme in 2014, developers Helical Bar and Grainger decided the scheme was no longer viable – but only after they had controversially started demolition of an adjacent cinema and housing.
RSHP's scheme will broadly follow the parameters set by LDS, but shunts the offices along King Street to create a view of the town hall's main façade across a public square. The other two sides of the square will have shops and cafes beneath flats.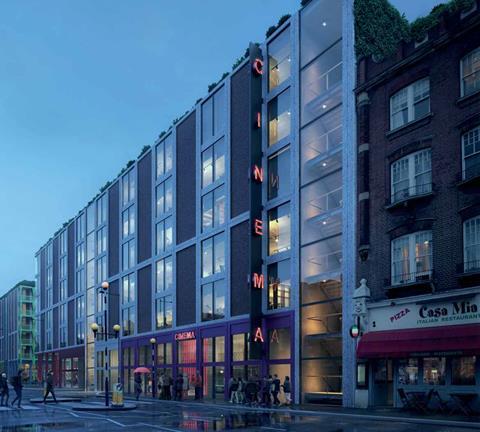 Half the flats will be private ownership and the rest "affordable" rent or shared ownership.
Nigel Playfair Avenue, currently a cul de sac running along the western side of the town hall between King Street and the A4, will become a landscaped footpath.
The council wants to bring new life to the western end of what is essentially Hammersmith's high street, as well as replacing its 1970s brutalist town hall extension which blocks views and contributes little to the streetscape.