Father of post-modernism dies aged 93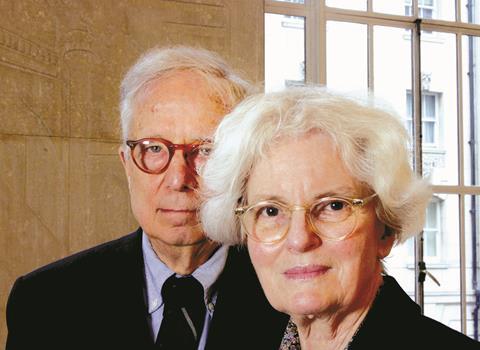 Robert Venturi has died aged 93. He had been suffering from dementia.
His son James told the New York Times his father died at home in Philadelphia listening to Beethoven piano sonatas.
The architect and academic, unwillingly known as the father of post-modernism, was one of the most influential practitioners of the 20th century.
He won the Pritzker Prize in 1991 – an honour tarnished by the jury's decision not to award it jointly to Venturi and his wife and professional partner Denise Scott Brown, who survives him. The couple were awarded the American Institute of Architects Gold Medal in 2016.
Venturi is best known for his books, Complexity and Contradiction in Architecture and Learning from Las Vegas, which ushered in a new era of architecture in which rich ornament, playfulness and historical reference took over from modernism's strict restraint.
He coined the phrase, "Less is a bore" as a riposte to Mies' dictum "Less is more".
In this country he and Scott Brown designed the Sainsbury Wing extension to the National Gallery, a seminal project they won after Prince Charles' infamous "carbuncle" speech put paid to ABK's original plans. It was listed at grade I in May.
Other key works include the Seattle Art Museum, the Museum of Contemporary Art San Diego and additions to the campuses of Harvard, Yale and Princeton, where he studied. After graduating he worked for Eero Saarinen and Louis Kahn before winning a scholarship to travel in Europe and ultimately setting up his own practice.
Important early projects include the house in Chestnut Hill, Philadelphia, he designed for his mother and the Guild House retirement home in the same city. Both broke the traditional "rules" of architecture.
At the time he and Scott Brown won the AIA Gold Medal, AIA president Elizabeth Chu Richter said: "What Denise and Bob have done for the profession far exceeds the completion of a great building or two. Through a lifetime of inseparable collaboration, they changed the way we look at buildings and cities. Anything that is great in architecture today has been influenced in one way or another by their work."