Hotel opening marks completion of US city's tallest building
Foster & Partners has announced the completion of the practice's Comcast Technology Center in Philadelphia, which is the city's tallest building.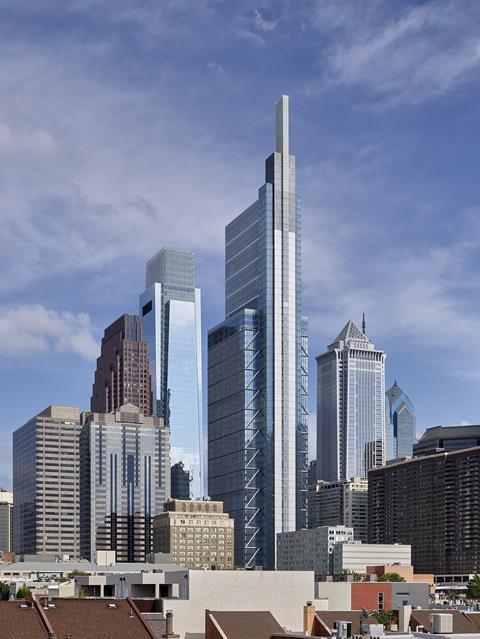 The 341-metre stepped tower includes innovative workspace for the telecoms giant as well as active public spaces, television studios and a 12-storey Four Seasons Hotel at its top. Digital artwork by legendary music producer and artist Brian Eno is a feature of each room.
Fosters said the development, which was six years in the making, had a central spine articulated at the top as an illuminated blade of glass. Its facades feature panoramic glass elevators and a series of three-storey sky gardens.
Practice founder Norman Foster said the Arch Street development brought together "an unusual mix of uses to create a new exemplar for the design of tall buildings".
"It makes a positive contribution to the surrounding urban fabric, drawing public life into the building and responding to the lively street culture of Philadelphia," he said.
"It features Silicon Valley-style loft spaces that encourage technological innovation and collaborative ways of working, while integrating works of art with public spaces and the building fabric.
"More than 80% of the workforce arrive directly by tunnels at the lowest level connecting to Philadelphia's public transport system – a vital part of the project's sustainable agenda."
Fosters said CTC's Leed platinum-rated design took advantage of Philadelphia's pleasant climate, which offers protection from the harsh winters.
The firm said the building used an active chilled beam system that reduced energy loads and created a healthier working environment.
Fosters said the building's typical floorplate has been designed to optimise and control light levels through efficient glazing with high light transmittance and an automated blind system.