Newham Council poised to approve 277-home redevelopment of market site
RMA Architects' proposals to redevelop the site of an east London market hall with 277 new homes and replacement shopping facilities has been cleared for approval by planning officers.
Under the scheme, most of the current East Ham Market buildings on the 0.8ha site would be replaced with six new blocks, the tallest of which would be 15 storeys.
RMA's design would deliver 2,714 sq m of new commercial space, some of which would be delivered by refurbishing the Kina House building, which will remain in place on the site. The building currently has ground-floor retail with 23 apartments above.
A 1,100sq m communal garden for residents would be created at podium level of the scheme's new-build element.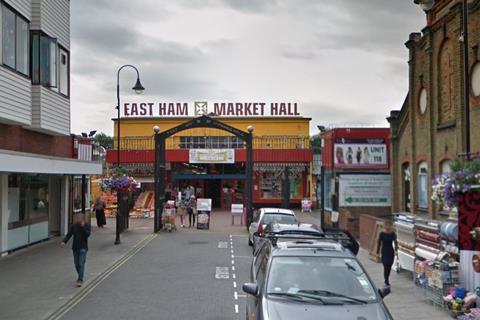 Documents produced for members of Newham Council's strategic development committee said that it was envisaged that the new retail offer would be an indoor mall that could be divided into up to 14 shops.
The proposals were drawn up for housebuilder Barratt London and East Ham Regeneration, which is a joint venture between retail developer Dransfield Properties and site owners Land Management.
Recommending the scheme for approval, planning officers said that the scheme's mix of tower, shops and low-rise duplex homes would provide more active-frontage use for the area and "bring a currently relatively visually degraded and under-optimised site into beneficial use".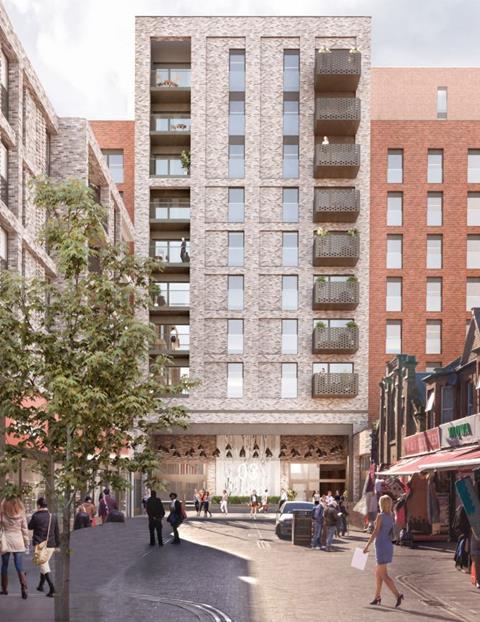 They accepted that the proposals would have an impact on "long distance views" of nearby listed buildings in the Town Hall Conservation Area, but said that pending nearby development would make the effect "negligible".
Officers added: "The subtle variations in brick tones, but with a predominantly red tones consistent with the most notable buildings in the vicinity in the Town Hall Conservation Area, distinguish the different elements and generous and deep set fenestration, and inset balconies provide depth, relief and interest to the elevations."
Government heritage adviser Historic England was consulted on the proposals, but said it was content for Newham to determine the application in accordance with its own planning policies.
Newham's strategic development committee meets on April 10. Because of the scale of the development, any approval would need to be referred to Mayor of London Sadiq Khan.