Practice appointed to develop and deliver new arrivals terminal concept
Pascall & Watson has confirmed its appointment to deliver a new £130m arrivals terminal at London Stansted Airport as part of a project that will see the existing terminal – designed by Norman Foster – reconfigured for departures-only operation.
Last year Stansted owner Manchester Airports Group won planning permission for the creation of a new 34,000sq m terminal from Uttlesford district council as part of a £600m transformation programme for London's "third" airport.
It said the concept for the arrivals terminal focused on a modular sky-lit roof floating above generous double-height spaces, while the soffit design reflected the single directional nature of the facility, providing an "intuitive" passenger journey.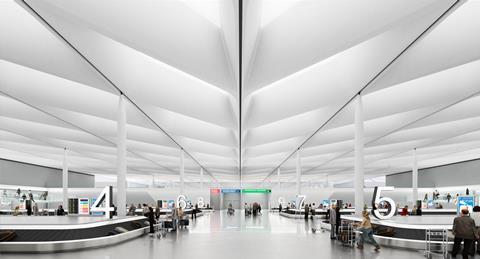 "The bespoke design complements the architecture of the existing building, which will be reconfigured into a dedicated departures-only terminal," the practice said.
"This will include the expansion of the check-in, security and retail areas, along with a new airside coaching facility, aircraft stands, taxiway infrastructure and car parking facilities."
MAG said the transformation programme was scheduled to last for five years and was the airport's biggest upgrade in passenger facilities since the original terminal completed in 1991.