New exams group HQ will bring together 2,500 staff from 11 sites across city
Eric Parry Architects has completed a new 33,000sq m headquarters for Cambridge Assessment, which oversees the work of the university's three exam boards.
The Triangle Building was conceived as a series of interconnected structures, centred on two main blocks linked by a bridge-like element that divides the site's open space into a street-facing entrance plaza and a private garden beyond.
It will provide Cambridge Assessment with enough space to relocate its Cambridge-based staff from 11 locations around the city, and expand its headcount from the current 2,500 to 3,000.
Practice director Eric Parry, said the building – which is located near Feilden Clegg Bradley Studios, Alison Brooks Architects and Maccreanor Lavington's Stirling Prize-winning Accordia development in the south of Cambridge – had been designed to provide an inspiring, stimulating and uplifting workspace .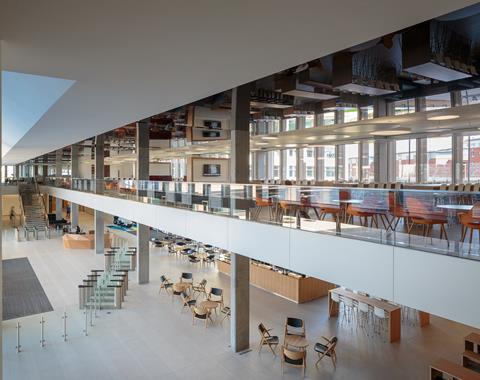 "Our design draws on the atmosphere of Cambridge colleges, blending their mix of materials and focus on landscaped exterior spaces with an institutional modernity appropriate to a company headquarters on this scale," he said.
Parry said the Triangle Building recalled the typology of institutional buildings of the mid-20th century, with Alvar Aalto's National Pensions Institute in Helsinki a particular source of inspiration.
The architect commissioned artists Claire Obussier and Vong Phaophanit to design an installation made up of layers of script to adorn the glazing of the entrance and the 39m tall tower. Seen close up, the script is made up of more than 300 responses, in 34 different languages, to the question "what is knowledge?". From a distance, the words merge together to form two pieces of abstract art.
Bouygues UK led the construction of the building.