Gillian Darley reports from Hemel Hempstead and Thamesmead, both works in progress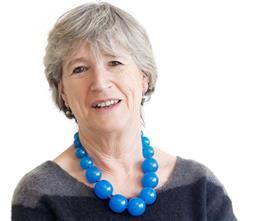 There is something of the Eliza Doolittle in post-war new towns, be they of the 1950s or 1970s. They are cussed, speak with the wrong accent and don't willingly follow the rules. Enter Professor Higgins.
Regeneration or, let's say, improvement to stick with my Pygmalion analogy, may come from different directions; the "get out of jail" card on the Monopoly board for those in charge, via specific funding which is likely to come from outside agencies or authorities and be targeted at housing, the wider environment and transport, cultural and communal endeavours.
In the case of Hemel Hempstead, Dacorum council responded to the wide concerns about the fate of Geoffrey Jellicoe's important Water Gardens (opened 1960) and applied to the Heritage Lottery Fund for help. The restoration, just completed, brings the linear park back to life, fringed with trees, paths criss-crossing the serpentine watercourse over neat, railed, bridges and with seating areas provided at regular intervals. New play areas and a fully planted flower garden nearer the lake are developments of the original.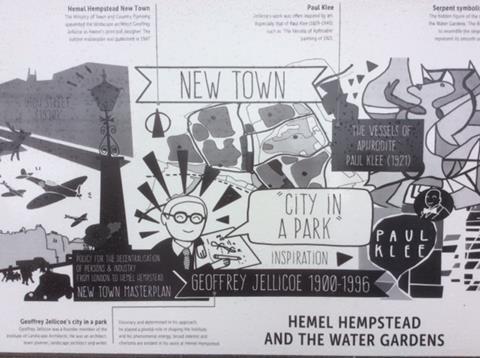 Now the bones of Jellicoe's excellent, unfussy, scheme which some five years ago seemed to be on its last legs, have emerged. Threaded by mature trees, a physical spine of paths and water which neatly aligns with a hidden double-height car park (shielded by a wall and planting), is entirely logical and effective. Seeing the snaking watercourse, it's evident how heavily Jellicoe was inspired by Burle Marx who, he considered, made it his business to design for people in motion, from which a rhythm emerged to reflect that of the user's own journey.
Hemel Hempstead's town centre improvements alongside the gardens are by no means complete but the council is newly installed in the Forum, which combines the library, public-facing council functions and café on the ground floor, together with council chambers and offices on the floors above, all knitted together around a generous atrium. Little of the original fabric of the new town shopping street survives but one section has been pedestrianised to offer space for a regular open-air market and there is outdoor life in the town again.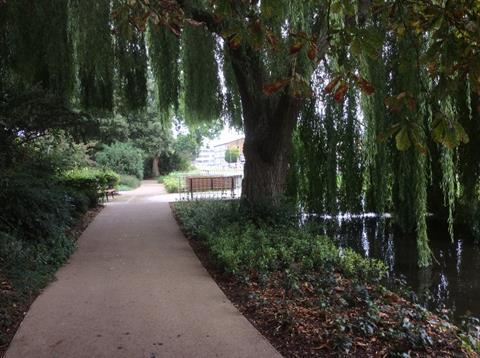 At Thamesmead much, for better and for worse, hinges on the arrival of Crossrail at nearby Abbey Wood station next year. Verity O'Keefe has an artist's placement and walking around the town with her was a lesson in close observation and careful listening, every chance conversation along the way (it's a friendly place) adding to what we could see.
Substantial tranches of Thamesmead, especially the system-built blocks around Southmere lake, are now crude pyramids of rubble or await demolition. As things are, the outward signs are bleak: boarded-up community and youth centres, blocked-off stair shafts and sinister undercrofts speak of desperation and despite Peabody's efforts to inform and consult via the housing association website, many residents will know little of that.
For residents, who may care little who is in charge (the town is divided between Greenwich and Bexley), the only evidence of improvement is what they can see. At the Moorings (for example) refreshed signage, well-kept open space, regular maintenance. The mayor's London Regeneration Fund has matched Peabody's funds to refurbish the Lakeside Centre for affordable workspaces and communal use, a step in the right direction for 2018.
But the future of Thamesmead depends on regaining the confidence of those who currently live and work there, and that trust will be hard won as Peabody, at the sharp end, knows all too well.